Introduction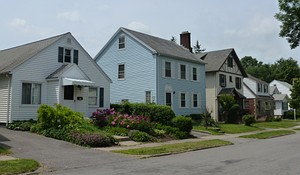 The Upper Mount Hope Neighborhood, sometimes called the Strong-Mt. Hope Neighborhood, is a mixed commercial and residential neighborhood centered on the University of Rochester Medical Center and Monroe Community Hospital. Rochester Science Park is also located here. It is a safe area popular with UR faculty, staff, and students, and sometimes known as the "white coat neighborhood" due to the high number of healthcare professionals who live there.
The eastern border cuts across Elmwood Avenue, Johnsarbor Drive, Gateway Road, and Westfall Road until it reaches the Erie Canal. Mount Hope Avenue itself runs through the neighborhood's center.
Upper Mount Hope is ideally situated. It is very walkable with many businesses. It boasts an easy drive to downtown Rochester or the shopping mecca of Jefferson Road in Henrietta, as well as the 390 and 590 expressways and the airport. Surrounding and within the neighborhood are many large natural spaces and lovely parks: Genesee Valley Park, Highland Park, Mark's Park, the UR River Campus, the Erie Canal pathway, Mount Hope Cemetery, and the Monroe County lands at Westfall and East Henrietta Roads.
History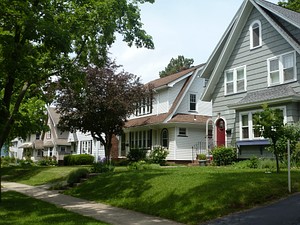 The University of Rochester has been a major influence on the history and development of Upper Mount Hope. Its earliest houses were built at the same time UR started work on the River Campus, which opened in 1930. (Its location was previously Oak Hill Country Club.) The current route of the Erie Canal was completed around this time as well. Additional houses were built in the 1940s and '50s. The stock is mid-century a mix of Cape Cods, American Foursquares, minimal traditional, cottage-style, and split-level ranches.
Today, Upper Mount Hope is a hot neighborhood for development. Recent years have seen the construction of the University of Rochester's College Town on sixteen acres on the west side of Mt. Hope between Elmwood Avenue and Crittenden Boulevard.
Fairmont Properties of Cleveland was the developer. Also in the works is the rebirth of the CityGate site into a mixed-use development anchored by Western New York's first Costco, which opened in June 2015. The CVS currently at the corner of Mt. Hope and Elmwood plans on moving to the empty lot next to College Town on the east side. The neighborhood association is optimistic that a developer will be interested in CVS's old lot.
Real Estate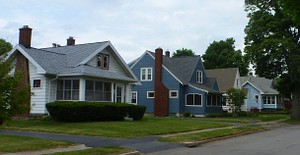 In 2012 it was reported that Upper Mount Hope boasted some of the highest appreciating real estate in the country. Real estate values rose 70 percent between 1997 and 2006. According to local real estate agent Glenn Miller, the median single-family home price in 2012 is $131,800, up 8 percent from 2011. The homes sell quickly as well, averaging only 31 days on the market.
There is a mix of architecture styles in the area, Miller noted. The 1920s colonial-style homes, with charming original details such as leaded glass, are usually in high demand. Unlike a more cookie-cutter neighborhood where it is easy to identify a dollar per square foot ratio, that benchmark is a little harder to establish in Upper Mt. Hope as a buyer may pay more for a smaller home with more charm than a larger home with less charm, he said.1
By March 2015, as College Town was nearing completion, houses in Upper Mount Hope had become highly desirable to landlords and rents had risen over 10% within the past year. The number of students living in the neighborhood has risen drastically, to an extent rivaling parts of the 19th Ward and Brooks Landing.2
Establishments
Unlike other Rochester city neighborhoods, Upper Mount Hope has a rather large number of chains, especially chain restaurants. Much of this is due to the amount of new mixed-use construction at College Town and CityGate. Still, there are a good number of local options as well.
Bars and Restaurants
Retail
Salons
Services
Worship
Other
Links
Comments:
Note: You must be logged in to add comments