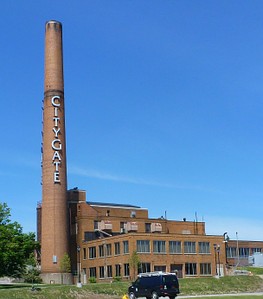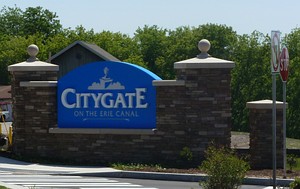 Westfall entrance (includes bike lanes).
CityGate is a redevelopment of former Monroe County Iola campus by
Anthony J. Costello and Son Development. Plans called for mixed use with 400 residential units and about 370,000 square feet of retail and commercial space, as well as 450 pedestrian lights, seating areas and a boat launch on the Erie Canal. Located at Westfall and East Henrietta Road, approximately two-thirds of the site is in Rochester and one-third is in Brighton.
According to city officials, most of the buildings on the site had not been in use since the late 1980s. One used to serve as an asylum for tuberculosis patients.1
The development's anchor, Costco, opened in June 2015. Additional stores and a hotel were also planned; eventually some outbuildings were constructed but not the hotel or residential units.
The city portion is located in the Upper Mount Hope neighborhood.
Not to be confused with CityGate Plaza on Lyell Avenue.
Zagster has a station there.
Anthony J. Costello and Son also developed The Reserve nearby in Brighton. Following the death of Anthony Costello in March 2017 both projects suffered from legal struggles over his estate. On October 25, 2018, Monroe County formally ended tax arrangements with the developer due to lack of payments and other financial Issues; on March 8, 2021 the city filed suit to foreclose on properties within its boundaries for nonpayment of taxes.
In September 2022 Streamline Real Estate Partners LLC purchased most of the development. Costco and Five Star Bank each own their own footprint within the plaza and were not involved in the deal.2
Food and Drink
Retail
Services
Former Tenants
Comments:
Note: You must be logged in to add comments
---
2011-04-06 18:32:47 I don't see a lot of work going on at this site but I hope this CityGate project takes off. The Iola Campus has a lot of potential. As it stands, the next Silent Hill movie could be filmed here. —BatGuano