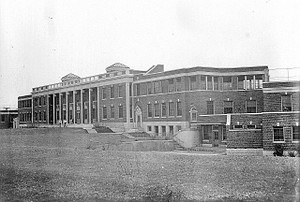 Historical image of Iola Building 5
The Iola Campus was a piece of Monroe County-owned property at the intersection of Westfall and East Henrietta Roads, across E. Henrietta from the Monroe Community Hospital. The former location of the county's Tuberculosis Sanatorium, the buildings were put to use by several different county agencies over the years. By the turn of the century, most of the buildings on the campus had been abandoned, and 28 acres of the property were sold in 2004 to Anthony J. Costello and Son Development. The property is now the site of Costello's mixed-use CityGate project (including the region's first Costco store).

The large number of abandoned buildings on the campus were attractive (and fairly accessible, though not legally) to urban explorers, but with the exception of the power house none remain now that CityGate is in place.
Photos of the Campus
Comments:
Note: You must be logged in to add comments
---
2008-07-11 08:49:56 Hey, If anyone knows, what is that smoke stack building in front? I've driven past that place so many times but never knew what that building was for —CoasterFuelPhil
---
2008-08-15 01:51:15 Phil, its the Siemens building, one of the few still in use on the campus. The only other building really in use is behind building #5, I think it's some kind of child care center. —TonyFolenta
---
2010-04-04 14:11:10 Does anyone know how long this place has been abandoned? We found a 1998 phonebook on the first floor, but the amount of decay suggests it's been empty for longer than that. —BrendanCahill
---
2011-06-21 05:13:46 It was abandoned not too long ago. —VickyTee
---
2011-12-03 14:52:47 Does anyone know if it's considered trespassing to travel on the grounds? My girlfriend and I wanted to take a few photos of the buildings. —rwn8263
---
2012-01-31 13:52:26 I bit of digging showed this to the the Iola Tuberculosis Sanatorium. Here are a few links, the first one containing photos of the building of the sanatorium in 1911, and the second some contemporary photos:
http://www.google.com/url?sa=t&rct=j&q=&esrc=s&source=web&cd=6&ved=0CEMQFjAF&url=http%3A%2F%2Fwww.cityofrochester.gov%2FWorkArea%2Flinkit.aspx%3FLinkIdentifier%3Did%26ItemID%3D8589937102&ei=8DYoT4_MIem80AHi25i_Ag&usg=AFQjCNFKZKjF3MjiYilGR0HFQAa3Zny6wg&sig2=_Pxkw_o7jOAgo7EHl6E8eg
http://www.pbase.com/joldfield/iola —WaltFritz

---
2013-09-02 09:41:32 A friend and I decided to explore campus a little and there were asbestos signs posted everywhere. Everything is completely overgrown, but the building is beautiful. —CBS