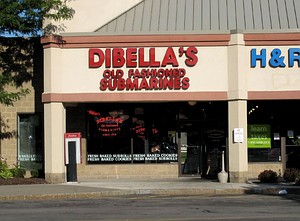 Loehmann's Plaza, S. Clinton Ave, 8-2008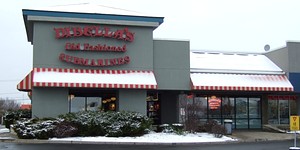 Baytowne Plaza - Jan 2008 BradMandell
Address
Location
Phone
(585)
390 East Henrietta Road, Rochester, NY 14620
CityGate
256 2060
2540 Ridgeway Avenue, Greece, NY 14626
near Long Pond Road
225 8440
620 Jefferson Road, Henrietta, NY 14623
Marketplace Square
475 1831
1405 Ridge Road East, Irondequoit, NY 14621
Near Goodman Street
266 0288
1900 Empire Boulevard, Penfield, NY 14580
Baytowne Plaza
787 1320
6720 Pittsford-Palmyra Road, Perinton NY, 14450
Perinton Square Mall
223 2140
1882 East Avenue, Rochester, NY 14610
Culver/University/East
473 1118
DiBella's is a Rochester-based chain that specializes in "old fashioned" subs. They were founded in 1918 as a corner grocery store. You can sign up for
Email News and Coupons for your local outlet.
DiBella's also offers catering.
See also: Comparing Subs for further discussions about Dibella's.
Comments:
Note: You must be logged in to add comments
See Archive Page for comments prior to 2008.
---
2008-05-06 16:11:26 Subs are ok, but I prefer Amiels or Pelligrinos over Dibellas.
I would say Im in the minority though, since everyone I know loves Dibellas. Cookies are DELICIOUS. —MrRochester

---
2008-07-20 15:20:45 Phenomenal roast beef (Red Osier?). Great hot & sweet peppers. Fresh rolls with quite a bit of chew to them.
DiBella's reputation is deserved and well-earned. —ZachSmalt

---
2008-09-01 22:44:07 The subs are alright, basically a subway with less choices. —carolturo
---
2008-10-26 16:31:12 Basically a Subway with less choices? I believe you are out of your mind. I am not a fan of subs, but I will eat at Dibella's any chance I get. By far the best subs I have ever had, and the service is nothing short of outstanding.
First rate all the way. —BobbyjParm

---
2008-12-09 12:48:29 After watching the workers make food with the same gloves they wiped on the trash can / wiped on their pants / handled money with I couldn't bring myself to eat here anymore. —BatGuano
---
2009-01-06 11:38:56 I've never seen the cashier making food at DiBella's. Also, if you think it's bad in a kitchen where everything is out in the open, you should check out what goes on in kitchens that are hidden from public view.
You may as well NEVER dine out! —BobbyjParm

---
2009-01-06 22:46:39 Best, subs, in Rochester. The key is their bread, and it is consistently delicious; always perfect. Some of my other almost-favorite sub places in the ROC are good, but sometimes they burn their bread, or it's not as good as usual.
A sub is all about the bread. I haven't had better anywhere. —VinceC

---
2009-01-07 12:18:10 The new East Ave location renewed my faith in the quality of their product, however, one of workers was loudly talking about how his last female customer had.. uh.. well.. it was x-rated... I don't think it sat too well with the female who was making my sandwich. It also didn't sit too well with my fiance who could easily hear the whole story. Still, no one wiped their glove on the trash bin and they appeared to regularly change them. I will be making return visits. —BatGuano
---
2009-02-03 17:41:20 simply the best subs...belongs in a sub triumverate along with pelligrino's and rubino's...rochester is very fortunate to have three sub havens...Wegmans is a close fourth —CJBarnhart
---
2009-03-29 04:15:39 After having DiBella's while on vacation in Rochester last week coming home to FL and tasting our sorry excuses for subs made me very sad. The bread is definitely key. —AntDi
---
2009-11-09 14:52:26 I used to go to the DiBella's on Jefferson on a weekly basis when I worked nearby. The subs were always great, and the service was stellar, even in the lunchtime rush.
Now I get subs once a month or so from the East Ave location. Subs are still great, but the service is consistently awful. When I place a phone order, I've learned that "It will be ready in 10 minutes" really means "It might be ready in 30, but only after you show up at the counter and someone gets around to noticing that they haven't even started your order." —RichMulvey

---
2010-05-31 08:33:26 I've eaten at the Clinton Ave. location and have always had a great sub. The price you pay for the size you get (IE: Around $8 for 10-11" per side) is worth it. I can make a large into two meals, and it's delicious every time! —adamg
---
2010-06-01 18:19:21 I started eating at DiBella's when I was going to MCC back in 2001-2002. The subs were monstrosities of meat, bread, veggies, and sauces. Over the years I have watched the subs get smaller and smaller, to the point where they now have probably half the "stuff" in them they used to. It's disappointing. Wegmans now has the best sub for your money. —foxual
---
2010-08-03 20:07:46 DiBellas is a Rochester treasure - great subs, the rolls are awesome. But their flagship location on Jefferson loses points in my book because they don't offer fountain drinks. Who wants a near-room-temperature mongo 20-ounce bottle of overcarbonated Coke? Forgivable when they were in their older Jefferson address, but now that they're in a brand-spankin' new building I'm dumbfounded that they spared no expense, yet skipped the soda fountain. —bionicsimmons
---
2010-08-04 01:08:29 @bionicsimmons only the non-Jefferson Road locations (which are franchised by Wendy's of Rochester) serve fountain drinks. —NathanHenderson
---
2010-12-27 01:51:01 I've never had a better sub. Wegmans has the same exact products, but DiBella's loads the subs up more. —DE
---
2011-03-03 18:21:56 I absolutely can't stand the East Ave. location. Last night was the last straw. I walk in and order a large turkey sub. While the worker was cutting the bread, I couldn't help but notice the accumulated goop and slime on the steel plate of the digital scale. All of them had the layer of slime, as a matter of fact.
Strike one: At least try to keep the place where you put our food sanitary.
Strike two: Said worker shlopped my turkey right on the goopy/slimy scale and slid my turkey off the scale, thus collecting said goop.
Strike three: I had to repeat what I wanted on my sub more than twice.
Arguing with Umpire: I asked to have the sub cut into four pieces, I received a sub cut in half.
Thrown out of the game: The worker crumpled the wax paper around the sub and stuffed it into the sub bag, ripping it in the process. She then just handed it to me and walked away.
Not all Dibella's are this awful. East Avenue is an exception. I hope someone that works at the East Avenue location reads this and cleans up their act.

---
2011-03-03 20:10:26 DiBella's isn't as local as I thought. There in one in Ann Arbor. —EastSideStephen
---
2011-05-18 18:21:45 Am I the only one that thinks these subs are overrated? I find that the bread saps away much of the flavor. —SargtGrumbles
---
2012-03-10 09:02:52 Used to the one in Henrietta at old location across from South Town and in the new building, but probably the best sub in Rochester still. Bread may be a bit thick at times (maybe too much?), but flavors are spot on and always know I'll have a delicious sub here —AGoldman
---
2012-08-24 08:55:44 If you are over in the Buffalo Rd area, try out the subs at mom and pop shop Calabresella's. The Italian Assorted is loaded, flavorful, and the rolls are fresh and on the softer side (compared to DiB's). Calabresella's subs put DiBella's to shame. —lizdee
---
2015-10-05 16:51:50 Been ages since there were any updates, so here's my 2 cents: IMHO, there are three types of subs (and sub lovers): 1) It's all-about-the-bread, 2) It's all-about-the-meat, 3) It's all-about-the-toppings. For the all-about-the-bread types, DiBella's is about the best you can do! Delicious, fresh, crusty rolls with just the right amount of meat & toppings to achieve the near-perfect balance. Wegman's used to be nearly identical, but they started scrimping on the meat, which throws off the balance. To be fair to the other types, Calabresella's is top of the line for the all-about-the-meat types. They are heavy, juicy and sinful. You know that a place that has a sub called the Colon Kicker piles it on and is not too worried about your cholesterol! For the all-about-the-toppings people, what's the matter with you? (Just kidding, my husband is one. I think of these people as the ones who don't actually like subs). He likes Subway. Lots of toppings choices. Complete fail in the other departments. Their rolls are limp, and the amount of meat is below skimpy. Of course it's about the toppings - that's pretty much all you're getting :-). A previous poster mentioned Amiel's. I think of them as being more toward the Subway side of the scale, but I wish some of the other shops had the gyro meat that Amiel's has! —KerryStanton