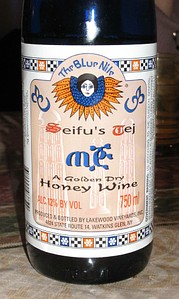 Ethiopian Wine (made in Watkins Glenn, NY!) - January 2008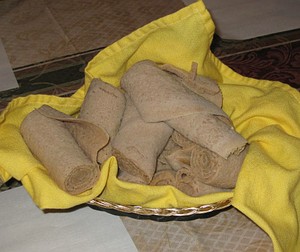 Injera rolled bread - January 2008
Abyssinia is an Ethiopian restaurant in Upper Mount Hope in Mt. Hope Plaza.
Abyssinia opened in October 2000 and were originally located at 80 University Avenue. They went on hiatus in March 2012 and reopened August 1, 2013.
According to
their facebook page, Aster Mengsha—one of the matriarchs and chefs in the family-run business—passed away in June, 2014 from a lengthy illness. The restaurant was closed on-and-off beginning in March, 2014, but reopened on June 20, 2014. Her daughter Herut Tekilu wrote, "Abyssinia will continue on with our family strengthened by my mom's memory. My aunts and I will continue making the same amazing food that mother made (with Enani as our teacher, we an say we learned from the best :))."
Comments:
Note: You must be logged in to add comments
See Archive Page for comments prior to 2010.

---
2010-01-11 09:48:20 Went to Abyssinia for dinner last night for the second time. Much like the first time, the food was very good and VERY filling. I ordered the vegetarian lentil dish and was impressed with it. The first time that I went the service was very good and attentive. Last night unfortunately was not a repeat performance. The waitress brought out the side dishes five minutes before the entrees so by the time the entrees were out, the sides were starting to get a little cold. She also didn't check on us once during the entire meal. I had to flag her down for more drinks and extra bread. There was only one other table seated in the entire place so I guess I expected the service to be a bit better. Oh well, the food was worth it!
---
2010-01-12 15:47:32 Service is always a little slow, as the other comments have pointed out. It is worth the wait though for the food which is really excellent. I like the lentils, and actually really like the kitfo (raw meat-they will cook it if you ask them) —MattHenshaw
---
2010-01-31 11:15:16 Food here is great! This is one of my favourite restaurants in Rochester. Everything is perfectly spiced, the injera is delicious. The Tej honey wine is a must try for anyone that likes their wines on the sweet side. Though it is made from honey it's distinctly different for mead. Often there is so much food I split one of the Combos for one person with my husband. Portions are very generous! Yes yes service is not the fastest and there's usually only one person (max 2) working tables, but once you get the food all is forgiven! Definitely go! —mkmclaughlin
---
2010-06-27 19:09:36 I love this place. The combo plates are great and everyone is always very friendly. I'm so grateful for having this restaurant in Rochester! The two other Ethiopian restaurants I've been to are in NYC and Vegas. This one is very good in comparison. The only down side for this restaurant is that it's never crowded. Come on people! What are you guys waiting for? Give it a try already! —Liren
---
2011-01-28 14:58:25 The portion is very generous...and reasonable priced...tasted very good too...I would love to go again. —lil.lyn
---
2011-03-24 21:05:42 The service was SLOW! No one asked how the food was. I guess my wife and I are just not fans of injera, she got a fork but I stuck it out eating with the bread.
I got a beef dish and the beef was very tough and chewy and not in a good way. Maybe it's me but I didn't like the collard greens either.
My wife had the 'pick any five' combo plate and said it was different and nice but..
We liked Natural Oasis Cafe and will stick with them when we get the Ethiopian jones. —HenriettaRob

---
2011-03-25 17:53:08 Not terrible, but not particularly good. You can tell that half of our food was microwaved by how much heat it gave off and how chewy the meat was. —jberna
---
2011-07-30 10:01:13 I visited Abyssinia last night with a few friends. It was a first time for Ethiopian cuisine for 3 of us out of the four. We trusted our selections to the friend who had been there before. He recommended mostly vegetarian dishes, so we got a varied selection of chicken, lentils, yellow beans, cabbage and tomato salad. I believe they also included the greens. The chicken was a little lackluster compared to everything else, but ALL the vegetarian dishes were fantastic with such different flavors. My particular favorites were the tomato salad and the lentils. The injera bread was very good, and a new experience eating with our hands. The injera left at the bottom of the platter with all of the juices that had soaked in was a great end to the meal. My boyfriend and I can't wait to return for more! —MerCDotes
---
2012-04-24 13:52:24 NEWS FOR THOSE SAD ABOUT IT CLOSING: I talked to the owners, and they are relocating, not permanently closing. The landlord raised the rent by a LOT and they had to close. They will reopen once they find a new location!! Stay tuned for more info on the REOPENING!!! <3 <3 <3 (This is my favorite restaurant in the entire universe) <3 <3 <3 <3 —HilarieLloyd
---
2012-08-08 10:46:40 UPDATE: Abyssinia is REOPENING in September and will be in the Mt. Hope Plaza next to The Dollar Store!!!! I confirmed this information with the owner's family. They are trying for September 1st, with the 15th as a backup and they guarantee to be open by Oct. 1st at the latest. Hurray!!!! —HilarieLloyd
---
2012-10-06 16:10:18 Looks like Abyssinia hasn't opened up in Mt. Hope Plaza yet. Guess they're behind schedule? I love this restaurant and can't wait until it opens up again! —BridgetO'Connor
---
2012-10-10 17:26:49 @HilarieLloyd any updates from the family? i drove by the plaza the other day to investigate, the only vacant spot looked like it wasn't anywhere near ready to open. —superglue57
---
2012-10-14 17:51:30 I also drove by Mt. Hope plaza, no signs of life there. At the corner of Union and University, near their original location, there is a sign in the window of a vacant business that reads "Ethiopian restaurant and bar coming soon". Well I'll be dipped in sugar, we might actually have a CHOICE between Ethiopian restaurants soon. Meanwhile, it looks like we will know who the President for the next four years will be before either of these businesses open. —MauriceLaCroix
---
2012-11-19 09:05:10 On second glance, I can't really tell if any new restaurant is planning on opening in Mt. Hope plaza. However, the business across from Thai Lao looks to be in the final stages of opening. The sign above the door reads "MEDA". Perhaps "Meda" is run by the same family that ran Abyssinia, just under a different name. Whatever the case may be, looks like our days of pining for Ethiopian food should come to an end shortly. —MauriceLaCroix
---
2012-11-27 17:53:35 No, Meda is run by different people. The place just opened on Saturday and they opened because they saw Absynnia close and saw an opportunity. The owner said that they brought in their chef from D.C. and to their credit, the food is much better than any other Ethiopian Rochester had to offer. —jberna
---
2013-01-14 14:23:41 I miss Absynnia's so much and keep checking back to see when they open. I was not impressed with Meda. Best of luck to them but it just doesnt have the same appeal to me right down to there teff/injera. —LoriZ
---
2013-06-27 12:13:00 They were slated to reopen on June 28, 2013, but according to their facebook page there's been another delay. https://www.facebook.com/abyssinia.rochester?fref=ts —daggar

---
2013-08-02 13:59:11 Went there for lunch today. Food was excellent as ever, and the service was faster than I remembered. Nice to have them back. —daggar
---
---
2013-08-18 13:08:07 Food was good and plenty, but the service was terrible. I won't come back. To make it short, the waiters seemed to deliberately ignore customers, they would only come to our table when we waved at them, we did only get two menus for 6 people, we got water only after we asked for it (but no refills) and no waiter would ever stop by and ask if we needed something. Needless to say that we had to go to the front desk to pay. —rippach
---
2013-09-10 17:15:52 I was so excited for Abyssinia to re-open but am now pretty sure I won't be back. Went for lunch with a friend and we were the only people there (we actually literally thought we were the only people in the entire restaurant, including staff, as we had to walk into the kitchen to ask the one person working if we could order lunch). We ordered kitfo and on the menu it clearly states "all the meals also include two side dishes of your choice from the vegetarian selection" so we ordered two veggie dishes as our sides. The food came, it was tasty, there wasn't too much of it, we chatted and tried to ignore the Jerry Springer show blasting through the dining room... and then the bill ruined our appetites. We had been charged full price for the two veggie "sides" so for the two of us it was $38. For a LUNCH that should have been closer to $15. We tried to ask about this confusing language on the menu- but to no avail. The cook/waitperson/busser/bartender yelled at us that we got what we ordered and that was what we were paying for. Too bad because the food IS good- just not THAT good. —shawnalusk
---
2014-05-19 11:32:55 Abyssinia in Mt. Hope Plaza, closed after being open for a very short time,about a month or two is my guess. Reason unknown. It has now been closed for at least a month. —LorraineRizzo
---
2014-10-22 13:13:24 My husband and I enjoyed lunch at here today. We hadn't eaten at Absyssinia since it was located downtown. Today's meal was delicious and the server was very pleasant. We hope to be back soon. We'd also like to try "The Sultan" located next door. —Bob&Gary