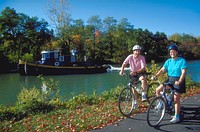 Biking is popular along the trail
The Erie Canal Trail runs along portions of the Erie Canal from Lake Erie to Albany. It is continuous from Buffalo to Newark, where is is known as the Erie Canal Heritage Trail. East of Newark, there is no official towpath trail other than in a few sections near Rome, Syracuse, and Albany. See the "Parks and Trails NY" website cited above for more information.
In the Rochester area, the trail is paved from Greece to Pittsford, as well as in other smaller sections. The segment between Genesee Valley Park and Pittsford is very popular, and cyclists need to look for a variety of users including rollerbladers, pedestrians, dogwalkers, small children riding with training wheels, and people fishing in the canal.
Bike tourists will find that many of the canal locks will have temporary restrooms and water available in the summer months. In addition, several towns have expanded canalside facilities with restrooms, showers, and camping areas - mostly notably in Newark, Fairport, Brockport, and Albion.
Notes and References

See Biking and Footprint Press (the Freemans) for outdoor recreation guidebooks, that include many of the existing segments of the Erie Canalway Trail between Buffalo and Utica
Comments:
Note: You must be logged in to add comments
---
2006-02-08 -I usually get on the trail at Genesee Valley Park because I live close to it, not because there's something spectacular about that stretch of the trail. The Genesee Riverway Trail is also accessible from the park. - BretteLuck