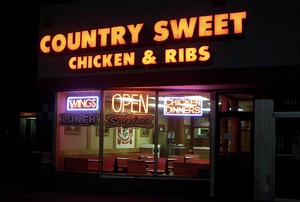 Country Sweet Chicken and Ribs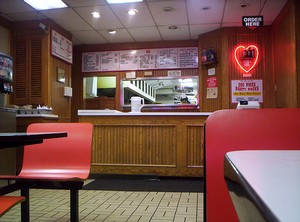 Mt Hope Location
Country Sweet Sampler Dinner (by Flickr user warthurton
license info)
Location
Phone
1691 Mt Hope Ave, Rochester, NY 14620
585 244 3200
1600 West Ridge Road, Rochester, NY 14615
585 730 7506
Hours
Rochester
Monday - Thursday: 11:00AM to 11:00PM
Friday & Saturday: 11:00AM to 12:00AM
Sunday: Noon to 10:00PM
Greece
Monday - Thursday: 11:00AM to 9:00PM
Friday & Saturday: 11:00AM to 10:00PM
Sunday: Noon to 9:00PM
Accessible
Yes
Websites
https://www.countrysweet.com
Facebook Page
Menu
Country Sweet is a restaurant located in Mt. Hope Plaza on Mount Hope Avenue. They opened a second location in Greece on September 30, 2020.
There are several reasons to like this place but being that I've been going there since I was a kid I'm sort of biased. Through my college days I found a few friends and an order of 50 wings made for a perfect ending to bar night. These days I try to stop by when I can and get a Chicken Patty Sandwich and I usually bring friends with me still. Country Sweet is "Rochestarian" and I think you'll enjoy it as much as I do.
Menu

NOTE - last updated Feb 17, 2008 by StevenDelorme


Dinner: (includes bread and two side orders)


Chicken or Chicken Fingers


Chicken Wing or Pork Ribs


Also, Fish Fry, Gizzards, and other combos

Chicken & Chicken Fingers


Chicken Wing Lunch


Chicken Patty Sandwich


Sides:


Macaroni, Coleslaw, Baked beans & French Fries


Chili Cheese Fries


Sweet Potato Fries


Potato Wedges


Biscuits $


Other


Wings 10pc 20pc


Snack size Chicken Tenders


Snack size Ribs


8-pc chicken w/ sides $


12-pc w/ sides


16-pc w/ side $
History
There was an earlier second location on Monroe Avenue.
Comments:
Note: You must be logged in to add comments
---
See Archive Page for comments prior to 2008.
---
2008-04-22 11:17:47 Went here last night for dinner with my roommates. I got the chicken wing dinner, and it was more food than I could eat. I think I will be getting the snack size next time. I love the sauce, and they also have Loganberry drink, which tastes great mixed with 7-Up. —AlexanderGartley
---
2008-07-03 12:47:08 Don't forget the sweet potato fries! They are always crispy and delicious every time..especially dipped in country sweet sauce. —JaimeTe
---
2008-07-20 15:40:43 Very sweet, almost candy-like sauce coats these large, breaded wings. This was introduced to me by a co-worker and it soon became our Friday night treat. That wet-nap they throw on the tray? You will need it. —ZachSmalt
---
2008-08-21 12:42:27 The food at this place is a local treasure. This is one of those places that Rochester natives long for when they're away from the area, and when I've lived elsewhere, I always made it a point to stop by here several times while i was in town. The wings are by far the best wings I have ever tasted and very unique. They're huge, battered and coated in the absolutely addictive Country Sweet sauce.
But bear in mind, the food is the ONLY good thing about this place. The staff there are usually pretty incompetent and slow, and the owner of the place is an absolute NAZI!! I've been going there for more than 10 years and the prices have more than doubled in that time. The owner also has an absolute hard-on about towing cars in the parking lot. Many people have had their cars towed while they are in the restaurant.
The cleanliness is questionable, fairly scummy and the clientele usually consists of gangbangers and drunken bar crowd. It's not uncommon to see fights break out or to get asked for money by a bum.
With all that being said, I will always continue to go there, as the wings there are simply the best you can get anywhere. You can buy the sauce from there or local supermarkets as well, and I tend to put it on everything. The chili cheese fries are a great deal there and are to die for. —AlexD1234

---
2008-12-10 12:33:19 Service is swift, the food is great, and some of the clientele always leave you with something to laugh about on the ride home. —BatGuano
---
2009-03-06 14:19:58 Country Sweet has the BEST chicken wings in Rochester, their sauce is absolutely delicious (especially if you like sweet sauces). The ribs also taste great and are very tender. Their staff on the other hand (at the Monroe Ave. location)... I don't know where they find these people but most of the people who work at the counter look less than happy to help you, the attitude is a bit off-putting, if not for their delicious food I'd think most people would be a bit intimidated to go in there. Except for the elderly lady, she is very nice and polite. Overall, I would HIGHLY recommend Country Sweet to everyone, if you've never had it you have to try it at least once, you'll get hooked. —ScottB
---
2009-04-05 22:04:06 Country Sweet is so amazing. So bad for you, but so amazing. I usually opt for the half-chicken dinner but I've had the wings before and their good (I just prefer hot wings.) The quality of the chicken wings themselves is amazing... they're jumbo!
The best part of this place is the two slices of American bread they put under your chicken! —NickCassaro

---
2009-06-03 09:36:28 I have to honestly say this my favorite place to eat when I come to Rochester to visit. I was first introduced to Country Sweet when my aunt and uncle would take me there. I was raised in Rochester and eventually moved to Savannah, GA. Everytime my aunt come to Savannah or I go to Rochester Country Sweet is the starter of our conversation. For anyone that has not tried this place, please go and you will see exactly why my heart will always be with Country Sweet in Rochester, NY. LaRhonda, Savannah, GA —LaRhondaFuller
---
2010-02-25 16:05:14 Say it ain't so! Two of the locations closed down, but luckily not the Mount Hope location close to me. I really hope they manage to keep their head above water and stick around for the long term. —AlexD1234
---
2010-06-05 17:24:32 HOW DID THEY CLOSE MONROE AVE LOCATION, there is no way they weren't making money. What fools. Best food ever though. —ChildPlease
---
2010-09-09 10:59:15 I will be visiting Rochester the end of the month and one of my 'must do' eateries is Country Sweet Wings. However, I can't tell if any location is still open. Please don't tell me that I can't get these wings any more. ;-( —dandolino
---
2010-09-10 10:04:56 The Mt. Hope location is still open, don't despair! —cbcritic
---
2011-01-30 13:41:10 been a fan since the early '80s when it was Tom's Country Sweet on Monroe near Oxford. #1 in wings! —gordierogers
---
2011-04-23 18:50:05 I just finished my first country sweet order of ribs. DAMN they were great! I've had sticky lips, and dinosaur. I was expecting a cut rate rib experience, but I was drawn regardless. They were really really good. Good enough that I was motivated to exclaim this to Rochester. The baked beans were pretty nasty. Sweet potatoe fries were delicious, will get a double order of those next time. —breaker
---
2011-10-06 13:05:15 Oh how I miss country sweet. I don't live in Roch anymore. I used to get the tender dinner with a double order of fries and a side of blue cheese. F'ING INCREDIBLE. I still think about it and it's been years since I've been there. I can buy the sauce where I am.... but its still not the same. —Jleigh010