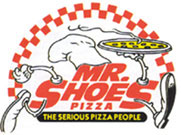 Mr. Shoes is a pizzeria in Upper Mount Hope, not far from the UR River Campus and Medical Center. Delivery available.
Comments:
Note: You must be logged in to add comments
---
2005-06-29 07:46:05 One of my favorite pizza places in town for non-gourmet pizza. I find the crust to be good (thick) the cheese is fresh, and the sauce is tasty. I can only speak for the South Ave./East Henrietta Rd. location. —JasonOlshefsky
---
2006-01-25 10:33:23 i think the pizza is average at best... ours was soft and doughy... i wish it had been a little crisper. The buffalo wings were not spicy at all... once again, not crisp,just sort of soggy. this was the gates location —JcPop
---
2006-04-01 23:09:57 good sauce, ok crust and the cheese leaves a lot to be desired. For $7 you get what you pay for. Speaking for the South Ave. location. —NewHere
---
2007-02-28 21:00:30 Pretty good pizza, but definitely in the "doughy pizza genre", which may not be to your taste. —QuintessentialKay
---
2007-03-27 13:25:13 I like their pizza a lot, and their wings have an interesting spice mix in the breading. My personal favorite pizza in Rochester. —TravisOwens
---
2007-10-09 16:57:46 My new place to order pizza from (South Ave) after Piatza's stopped accepting their coupons without expiration dates. The pizza is pretty good hot, tasty leftover, and the girls who work at the counter when I pick it up are always really nice! —SaraChristine
---
2007-12-27 11:48:01 To add to my previous comment - we ordered from here again last night, and got subs and breadsticks instead of pizza. My boyfriend was really impressed by his buffalo chicken sub, and the breadsticks with cheese and dipping sauce were really good. Instead of picking up like we normally do, we ordered delivery, and it came really quickly, about 10 minutes under the estimate when we called. We should order from here more often because we've always been really satisfied with their customer service and their food, which is rare in a pizza place. —SaraChristine
---
2008-02-12 21:22:39 My favorite pizza place in Rochester. They have, hands down, the best wings around. The sauce is homemade (so I assume...) It's always slightly different and has an amazing flavor. The pizza is great too. The ingredients taste fresh and I'm a fan of the liberal amount of sauce as well as the doughy crust. I haven't tried any of the things SaraChristine has mentioned, but only because I can't pry myself away from the pizza+wings combo! —AndrewWagner
---
2008-02-29 03:24:19 Ordered pizza over the phone. They called back 45 min later to say that I was just out of their delivery area so they couldn't deliver. I just want to know why it took them that long to figure that out. It took over a week for them the reverse the charge on my credit card which had me a bit miffed as well. —EllaBeeney
---
2008-09-10 15:34:54 I've ordered from the South Ave location. The food is very good, but I have a few favorites. The wings are always good, cooked perfectly. The potato pizza is to die for. Think of pizza with no sauce, home fried potatoes, mozzarella and cheddar cheeses, bacon and green onions with ranch or bleu cheese on the side. OMG, the best stuff ever. —CatMagro
---
2008-09-10 16:29:21 I really like Mr Shoes. The crust is thick and doughy, like I like it, and the sauce is flavorful. Some of their other foods arent bad either. They make a really good calzone and the pizza fingers are decent. Ive only tried the South Ave location. —MrRochester
---
2008-12-13 15:49:47 Greece Stone Road location is good. I think if you like Pontillo's, Trottos's, or La Famigilia you will like Mr. Shoes in Greece. —CJM8232
---
2009-03-03 18:17:48 The South Ave location is the best pizza in the area, and at a really fair price. 7.99 pickup special and the resuable $2.00 off a large when you want delivery make it both affordable and high quality. Very good subs as well with some real good bread. Wish they were open a little later at night...
Greece location is neither as good tasting or as good in customer service, but still respectable for a cheaper pizza. I'd recommend Carbones or Caraglios which are just a few intersections away, however, if you are in Greece. —Fetou

---
2009-06-16 20:06:14 These guys really are excellent with everything on their menu. I've only gotten pizza and wings from here, so I haven't tried any of the other stuff on the menu, which all looks good as well. The pizza easily stands up to any other joint in town. Now, the wings, those are another story. The breaded wings are AMAZING! Honestly, I think their wings are the best of any pizza joint in town and rival any of the other wing joints. They are huge, succulent and perfectly breaded. Order them with the sauce on the side, it makes a big difference, particularly when ordering for delivery. —AlexD1234
---
2010-07-21 14:09:44 They sell Mexican Coke with real sugar! $14 for a large one topping pickup special and 2 glass bottles of Coke with sugar! Great deal! —ScottyV
---
2011-06-09 09:51:18 I recently visit the South Ave location for the first time.... My advice to all "DON'T DO IT" especially if your considering delivery as a option, no make sure you visit this pizzeria location. Believe me you will change your mind, well at least I did I had to demand my money back immediately after seeing the unsanitary issues, and the lack of customer skills.. Never Again...
---
2011-11-20 16:12:20 Got an order of jumbo chicken wings (medium) from them the other day. The wings had tons of meat and I liked the flavor, although they were not very spicy at all. Their blue cheese is AMAZING, and blue cheese is probably 50% of the reason I ever eat chicken wings (yea I know it's not very healthy...) The only thing ... they gave me a terrible tummy ache not long after eating them, but that is just me I think (my boyfriend didn't have a problem). So, if you are sensitive to grease, I would stay away from these cuz they are loaded. Great for an occasional treat though! —RHarperA
---
2012-07-17 17:46:00 Mr.Shoes food is ok however the customer service SUCKS!!! The young lady that answers the phone needs to be replaced! or trained better... All in all Mr. shoe provides average food and poor customer service. I will take my business elsewhere! Thannah is totally right! Two thumbs DOWN!!!!!
---
2015-05-04 16:55:08 It's close to my house so I'll frequently order and pick-up. Yesterday was embarrassing, though. I realize that mid-afternoon, mid-week is when you bring on your untrained staff, but that necessitates somebody is in charge! I put in an order for a bread bowl salad and was told 15 minutes. 15 minutes later I came in and, as best as I can tell, they started making it then. In another occurrence, I was given the wrong salad dressing. Sorry to report that things are *ahem* in transition. —JasonOlshefsky