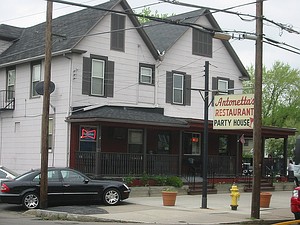 Antonetta's Restaurant
Former Location
1160 Jay Street, Rochester, NY 14611
Comments:
Note: You must be logged in to add comments
---
2005-10-20 13:59:19 I would like to point out that Antonetta's (according to their website) serves italian ice and has a dancing superheros icon on their front page, therefore they are awesome. —HeatherYager
---
2006-07-26 07:09:05 I tried to go here once but the wait was really long. This place gets BUSY. Anyway, I've heard good things and will try again some day. The lunch menu is available on the website. Looks cheap and good! —RachelBlumenthal
---
2006-08-05 09:35:24 Their lasagna is very good —MrPhil
---
2008-05-06 15:54:22 The interior and exterior of Antonettas are very tired and need retirement, but the food is delicious.
The place is always packed and probably has been since 1902 when it opened. Very clean for never being remodeled since 1930. —MrRochester

---
2008-09-16 09:08:31 Good food, scary location. —BadFish
---
2008-12-17 18:00:38 Cheap and delicious. Had lunch here last month. Can recommend without hesitation the beans and greens. Don't expect to linger or have intimate conversation, however. They pack 'em in tight and get you in and out in 30 mins or so. It was made clear, in a friendly, subtle-but-firm, grandmotherly way, that we were done with our lunch and should make room for the next folks.
Neighborhood is not scary, at least during the day, just poor. I will definitely be back. —JasonHaremza

---
2009-02-03 17:34:37 definitely a popular and crowded place for lunch and a place to be seen...but...the food begs me to ask why —CJBarnhart
---
2009-02-27 14:56:24 Some of you do not understand what it means to be italian. This is not the Olive Garden. If you want fake go to a plazza and ejoy the breadsticks. If you want what ture italian cooking then antonettas is where you have to be. —JerrySloan
---
2010-10-29 11:58:13 I just have not enjoyed the food here. I know many people love it and I have tried twice. The first time I had Haddock French. The fish was cooked perfectly but the sauce was bland and watery and the French is all about the sauce. The second time I had a bowl of Seafood Bisque and it was WAY too salty and I love me some salt. I don't eat red meat so maybe this is why my experience has differed from others. —JulianaMack
---
2015-12-04 17:06:42 This is a popular restaurant in an old German and Italian part of the city. The food is delicious and reasonably priced. Someone (from the suburbs maybe) posted that it's in a scary neighborhood. Not true. Infact a Rochester Police Dept substation is right across the street! —LindaKunz