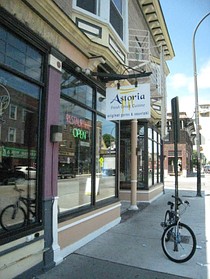 Astoria on Monroe Ave 6-2008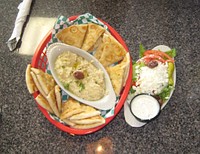 Hummous and a Greek salad, 7-2008
Closed in February 2016.
Comments:
Note: You must be logged in to add comments
---
2008-06-12 11:29:31 Went here a few weekends ago. Overall wasn't that impressed - food was not terrible but I got the chicken souvlaki pita which needed seasonings. When we asked for water with our meals we got bottled water instead and were charged for it. We went on a very hot night and it was not air conditioned which kind of ruined the mood. The service was good and hummus really delicious. The pita served with the hummus was hot and fresh from the oven and they also give you a choice of whole grain wheat pitas or traditional white pitas which was nice. However I would probably go to Aladdins across the street next time I'm in the mood for a pita. —JaimeTe
---
2008-06-21 18:19:42 We had pitas for lunch here along with some rice pilaf and a Greek coffee, we though it was just fine for lunch, prices seem reasonable and service was friendly. We enjoyed what we ordered. —DottieHoffmann
---
2008-06-25 21:57:55 Not at all bad. What is strange though is that all gyros places (mykonos, olives, astoria, pita pit) serve the same gyros mystery meat. Are they all buying from
http://www.greciandelight.com ? Looking for some expert insight. —ThomasPawlik

---
2008-06-27 00:20:33 Seems like a bad location to open yet another Mediterranean restaurant with Aladdin's and Oasis right there. The food is okay - I would pick it over the neighboring Subway but I still prefer Aladdin's. The lemon potatoes were decent and so was the gyro pita. Overall - an okay lunch place. —OneLove
---
2008-06-29 22:50:28 My wife and I stopped in last week and were blown away! This is by far the best Greek/Medditeranian food we've had. The service was quick and friendly, and the food was outstanding. i had the roasted veggie pesto panini my wife had the chicken souvlaki pita. both very delicious. Greek selections and some traditional favorites. They also deliver which is a plus. I would recomend this place to everybody. —chris
---
2008-06-29 23:43:14 great place for some real authentic greek food about time-know the place this is a great place i heard they are going national with there concept quick casual nice decor i had the calamari dinner it was superb and we shared the 3 dip combo great place for dinner —michealvager
---
2008-08-10 21:24:17 Just had take out from here. While I was waiting, I noticed several dishes go from the fridge/freezer to the microwave. So don't expect particularly fresh food. I had a panini which was awful. It was the roasted veggie pesto panini. It had far too many ingredients that didn't go together at all. Moreover, the ingredients weren't particularly good. They somehow managed to make eggplant feel like plastic tape.
So unless you're craving an electrical tape sandwich... —VikramManjunath

---
2008-08-11 10:35:12 Food wasnt bad, but my chicken pita was very salty. My friend enjoyed his meal. But I would choose The Olive Tree down the road over Astoria. —MrRochester
---
2008-08-28 18:51:46 By far Astoria is the best fast food place around! I love the Kalamata Gyro and the Village Gyro which has crsip fries wrapped in it! If you have never had or heard of Saganaki (SA-GA-NA-KI) you MUST MUST try this Appetizer. It is flash fried Kefteria Cheese crisp and delicious served with hot pita for $6. And I must say that the Gyro Meat is the best tasting, all gyro meat I believe is a combo Beef/Lamb mix and it is crisp around the edges and well flavored, as opposed to flat limp frozen slices served at other places on the avenue. A friend and I ventured out to the Americanized side of the menu and tried the Gorgonzola Wrap and the Chicken Panini w/ goat cheese instead of Mozz to which they were happy to substitute free of charge and although it was good I much prefer the gyros. Next to try is the calamari gyro for less than $6. Try it for the first time or go back and try something else. Astoria is RAD! So are the green checkered papers! —hettiedoyle
---
2008-09-04 21:30:49 As a vegetarian, I was a little disappointed that both the greek rice and potatoes are made with chicken stock. It was nice to be informed of the ingredients promptly and honestly though. —ShawntrellMiles
---
2008-09-28 22:38:24 I had lunch here on a weekday in mid-September. I got the gyro with kalamata olives and fire feta. It was tasty, but the price doesn't really match the quality of the food—it's basically decent Greek diner food, for a few dollars more than this sort of thing should cost. My friend got the spanikopita, which was pretty bland (big portions, though). —OwenThompson
---
2008-11-26 22:35:26 This is my favorite place for quick food in Rochester. Though it isnt close to my home, I go here regularly. The avgolemeno and greek roasted potatoes are amazing... Ive tried several of the pitas, and dinners and have yet to try one that I dont like. The best part is they make you feel like family when you walk in, very friendly people. —AmandaPiccarreto
---
2008-11-27 19:42:44 I haven't eaten here, but I've been here with friends and the people who own(?) the place/work there are so friendly and nice. Last time they brought us out a free dessert! —SaraChristine
---
2009-02-10 19:33:30 I love this place! My favorite Panini is the Roasted Veggie Pesto with goat cheese! It is absolutely to Die for! (I like to add chicken to mine as well:) The Greek coffee is superb and I always order my fav Greek pastry for dessert, baklava! I recently found out they deliver as far as the U of R and I was pleasantly surprised! I ordered my food online at campusfoods.com —EllaBella
---
2009-03-30 08:16:38 Went here this past weekend for the first time. Food was good, not great. Saganaki was overly done and very oily, but the pita they served it with was great. I had the veggie panini which was great and my boyfriend had the village gyro, which he said was just ok. Overall, good cheap food but no the best greek food in the city. —goldengirl217
---
2009-04-10 10:41:43 I'm on the "great" side of the fence here, and probably won't go back to Aladdin's now that I have Astoria as an option. The food is fresh and served pipping hot. I've enjoyed various gyros as well as the dip combo and the pork souvlaki dinner. Good prices. —EllenKelsey
---
2009-09-06 19:15:32 Very friendly owners, excellent for deliveries - I am another customer who is on the side of "great" here. I order my food online as well, and they're very prompt at both delivering the food and also correcting any potential mistakes. If you haven't had them, definitely give them a try - you won't regret it! —theGreenKnight
---
2009-09-22 18:17:48 Great place that we only recently discovered, thanks to Rocwiki. I almost always get the santorini pita and really like the food here which is cheap. —MikeWu
---
2009-11-06 11:30:37 Got take out from Astoria last night. I ordered the falafel pita and split the tzatziki appetizer with a friend. I would say the food was good, but not great. The pita had a generous portion of falafel but they were not cooked very well all of the way through. The outside of the falafel were nice and golden brown but as I bit more into it, the insides were undercooked and mushy. I also thought the toppings were a little skimpy. There were only 2 small pepperoncini rings for the whole pita. The tzatziki was good but after traveling to Greece earlier this year and eating the tzatziki there, this was a bit of a letdown. Overall, I think I am on the fence regarding Astoria. Planning on giving it one more try and going from there....
---
2010-03-19 12:59:01 I want to make it known the type of CUSTOMER SERVICE this bistro offers. I had been ordering from them for the past 4 months (since December), and spent about $40 a week on their food. I'd order after work and such. They got my orders incorrect three times total, to which I complained. The first two times, I was credited for the mistake. The third time, however, after complaining that I received white pitas instead of whole wheat, and onions all over my meal (my housemate is allergic), the owner told me "You are on record as doing this before, and never call here again or we will call the cops." I am disgusted and appalled at this treatment, and have filed complaints with the Better Business Bureau as well as local agencies. I was a paying customer - it was not my fault that the STAFF was incompetent and did not fulfill our orders correctly. Steer clear of this place if you want good customer service - the owner/management leaves much to be desired. —JoeyS
---
2010-04-25 20:19:31 I picked up lunch from here last week. I ordered a chicken souvlaki pita with no tzatziki sauce, lemon potatoes and a side of vinaigrette. Upon unpacking it at work, I realized that I got a chicken souvlaki pita swimming in tzatziki and chicken lemon soup. What? This is after the person taking the order confirmed my "no tzatziki" request 3x. I strongly advise double checking your takeout order. To be fair, after I scraped off the tzatziki, the pita tasted pretty good! The soup was average at best. I will try it again for lunch (but will be sure to check my order before leaving!). —OneLove
---
2010-08-14 13:29:45 I get an Original Gyro from Astoria for takeout about once a month and they are consistently delicious. Their service is speedy enough where I rarely feel the need to call ahead, but when I do they have it ready for me. I will continue to patronize Astoria, but here are two comments for the owners if they read this: 1. Aladdin's is right across the street and offer some of the same fare; their Gyro Pita is similar to your Original Gyro, equally delicious, and about $1.50 cheaper at $5.35 after tax. This makes it difficult to justify crossing the road to get my Gyro from you. If you were to offer your Gyro at $5 and promote this, it would attract a great deal of new patrons to try out your restaurant. Average Americans know little about Mediterranean food beyond the Gyro and perhaps Hummus - this will get us in the door, and that's the hardest step towards earning a regular customer.
2. Stick to your hours - if the sign on your door says 11am to 11pm you should be open during those hours. Several times I have stopped by as early as 9:30pm to find you closed, and a week ago at 3:30 in the afternoon I was greeted with a sign on the door stating you would be not be opening until 4. —TSventure

---
2011-03-27 12:48:57 Had another great meal here Friday evening with the small dining room about half full. My mousaka dinner was delicious, with plenty of pepper in the Greek lemon potatoes. My wife really enjoyed her avgolemono soup to start. Her pastachio was also very good, but a little dry. The fresh grilled pitas on the side were wonderful. Our server was both personable and very helpful. Her best tip was that a fresh pan of galaktoubouriko was just out of the oven. It was a dessert to die for! We'll be back soon. —JGerek
---
2011-08-05 19:24:38 I've ordered from Astoria before, and the food is pretty good. Finally was able to order on a Friday and got the Taverna Fish and Chips. It's not actually fish and chips unless you order the Greek potatoes to go with it as one of your sides, but it was delicious. Food arrived hot and on time for delivery. The fish was really good - not battered too much, and no bones at all. I would absolutely order it again. —JoeWyborski
---
2011-08-09 23:35:18 I got take-out many times, I had some really good meals from here. They make a great hot sauce for the cheeseburger, the gyros are very good, and the baklava is good. They have made a couple of mistakes, to be specific I always ask for no onions and they put onions anyway on more than one occasion. After reading the other comments, I guess this isn't Burger King where you can always "Have it your way". I suspect these "mistakes" are all due to one particular employee who purposely does not like to respond to reasonable customer requests. Nobody's perfect I guess, the food has been good more often than not and I really like this kind of food, so I will likely give them another shot when I'm in the area. —JoeBernardino
---
2012-06-09 10:01:19 Great fish fry!!!
---
2012-10-03 11:11:02 Came here with a buy-one-get-one coupon from the 2012 "Savearound" book. Good food, reasonably-priced. Chicken souvlaki was okay...not exceptional, but good. The lemon potatoes were fantastic. Server was extremely nice, if a bit overwhelmed with trying to handle both in-store customers and takeout. —timcrist
---
2013-01-11 20:39:24 nothing to write hoime about, but enjoyable if you don't wanna pay double across the street. the only real problem is they run out of stuff. called in an order after an hour of trying to decide what to eat only to be told they have no beef. beef is 60 percent of the menu and 80 percent of the american diet. how could you just not have beef on a friday? i have a hard time trusting an establishment that can't even get meat ordering right. —SteveAngry
---
2013-10-29 17:01:20 Let's just call this a 3.75-star review. Nothing really 'highbrow' about this little hole-in-the-wall, except good, heavy, slightly oily Greek diner fare. I ordered a gyro lunch special, which came with a small Greek salad. The gyro was as good as any that all the old Greek diners (that no longer exist locally...) used to make, and it was pretty cheap, as well. Certainly NOT the kind of food you should eat every day, but a good alternative for those days when you really don't care just how much fat or cholesterol is in the food —alex-c