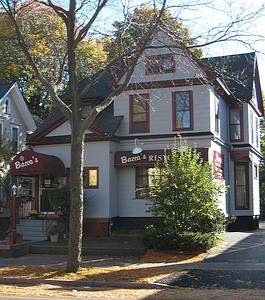 New Paint Job over the Summer, 10-2008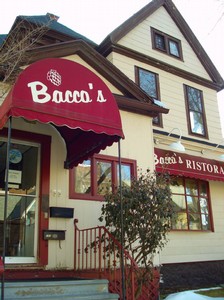 Bacco's (3/2008)- Photo by Tricia Seymour
Former Location
263 Park Avenue, Rochester NY, 14607
Status (as of 2021)
Closed
Bacco's Ristorante was a small Italian restaurant built out of a converted house with a wine bar up front.

Appetizers ran around $8-$12, Dinner Salads around $10-$15, and Entrees around $15-$25.
Comments:
Note: You must be logged in to add comments
---
I've only eaten here once, and it was a few years ago. With that caveat - it's a nice little place, with standard Italian fare. The folks I was with ordered the more interesting items on the menu, while I ordered spaghetti and meatballs. Their dishes were disappointing, mine was not. So I can recommend simple pastas, and their marinara sauce. I would recommend Grana's at the Renaissance over this one. —Ross
2006-06-12 19:16:34 Wonderful service, very nice atmosphere, good food. The bruschetta (free!) and the plain bread were both delicious, and it's easy to fill up on these before the meal arrives! This has been the first place that I've been able to find spumoni (the dessert) in a long time. I'd definitely go back. It wasn't anything out of the ordinary, but it was tasty, filling, and reasonably priced. —RachelBlumenthal

---
2006-12-22 09:21:18 Nice "small restaurant" atmosphere. Tables were pretty close together, but the interior layout was thoughtful enough that this was not a problem. Service was pleasant and professional, as one would expect of a restaurant at this level. The free bruschetta was a pleasant and tasty surprise, and as Rachel said, the regular bread was good, and was refilled as needed. I ordered veal with a red sauce, which was served alongside green beans and quartered herbed potatoes. The sauce was very flavorful, but it overpowered the subtle flavor of the veal a bit. My companion ordered penne with chicken and a light oil sauce. The pasta was cooked well, the sauce was delicate and tasty, and the chicken was fork-tender. —EastSideStephen
---
2007-09-12 13:58:09 Went here on the recommendation of a friend who said it the "best italian food" in the city. From what we had, I'd have to agree. The service was also excellent. Don't recall exactly what we had, but there were no leftovers - and that never happens! —MarcVera
---
2008-02-29 13:34:27 My highest recommendation, along with Peter Geyer's and Mr. Dominic's. Seating is a bit tight, but the service, wine, and especially the food are top notch. This is like being at a great little cafe/restaurant in the upper west side. —DennyWooty
---
2008-03-24 12:19:05 Baccos has great food. Only qualm is they need to remodel the inside and outside of the restaurant.
But dont let that hold you back, the food is awesome. —MrRochester

---
2008-04-02 17:07:59 Bacco's was recommended to me my freshman year of college (now a junior). I've been several times over the years and have yet to be disappointed. Unlike someplace like 2 Vine, this restaurant is pretty small and never noisy (in my experience). The food and service have always been excellent when I've visited. It's a fantastic date spot, as it's quiet, pleasant, has a great atmosphere, and good prices for the quality of the food. —TarynKimel
---
2009-01-01 12:44:31 Our other "favorite" restaurant... along with Rooney's. Georges and Lisa are wonderful owners/hosts who really get to know their customers, always making us feel welcome. Special orders are no problem at all- they go out of their way to make sure you enjoy your meal. The dining room is a bit tight, but it is still romantic and comfortable. The wine list is very reasonable, with some awesome Malbec's in the $20 range. The included salad with citrus vinaigrette is wonderful, and the entrees are exceptional. We especially love their pasta dishes (gnocci and saccotini in particular). Their deserts are home made other than these amazing crusted gelato (limoncello or cappucino tartuffo) balls flown in from Italy. —LeGrandChien
---
2009-03-02 22:51:04 This restaurant has a great atmosphere and service. It also has a varied and inexpensive wine list. I thought the food was lacking in flavor though. I have had much better Italian food in Rochester —FGeorge
---
2009-04-22 13:47:26 The best italian cuisine in town (so far...) I've been to Italy several times. This is the closest you can find from a nice genuine Italian place (except the spaghetti and meatball, since I never seen any in Italy...). For the rest, teh wine selection is great, teh service is impeccable and attentive, with a deep and thorough knowledge of teh menu and specials, not just a learn-n-repeat cheatsheet. The food is just NOT food! IT IS CUISINE (or culinaria, and not cucina as many think)we are talking about here. The gnocchi are both humble and complex at the same time, with lots of flavors and tastes, none of which overwhelming your tatsbuds. The vegetables used in the pasta dishes are obliously fresh, cooked to perfection, with just the right amount of spice. Even the salad is a welcomed change compare to the usual frozen tasteless lettuce !
little details like fresh parmesan on the table, fresh bruscetta and other little surprises will make you feel at ease.
The desserts are just amazing.
... Thanks a lot to the Chef, Georges, for this great culinary experience.
the perfect place for a romantic encounter. —thisch

---
2009-06-12 10:15:09 Went last week for a nice meal before a race the next day. Wanted to carbo-load, and pamper ourselves. We did the same thing before the same race last year - maybe a new tradition. The bread and salads, as we remembered from our previous visit, were excellent. My wife ordered the vodka pasta, which was good, the sauce being the best part of the dish, but the pasta was slightly overcooked (i.e. not al dente). I ordered a salmon dish served with potatoes and snow peas, along with a creamy sauce with shrimp. The sauce was rich and the shrimp were a nice addition. The snow peas were a little overcooked. For the price (nearly $25) I was disappointed with the salmon. It was farmed, which I expected because it was not advertised as wild-caught, and well-done (which I guess is preferable with farmed fish when I think about it). A restaurant of this caliber could vastly improve their seafood selection with an emphasis on wild-caught Alaskan fish in their dishes, and to take the utmost care to ensure that their pasta is truly al dente. —ErikReinert
---
2010-05-25 21:49:39 Excellent experience! Great and attentive service, excellent atmosphere... and most importantly fantastic food... maybe one of the best Italian meals I've had in the area. I went here with a few friends and we all loved our meals. Bread and free bruschetta was great and we shared the eggplant appetizer (delicious!). I ordered the pasta special (homemade spinach linguine with tomato sauce, mushrooms, and onions) and it was out of this world (and great portion size, too)! One friend I was with ordered the seafood risotto special and it looked amazing too. Other 2 friends ordered the fish special and they said it was great. We all ordered desserts and they were all delicious as we passed them around to share. I will DEFINITELY be returning soon! —Acarp
---
2010-12-03 21:23:49 We've lived near this place for years and never had the chance to try it. Glad we finally did. The owner was there, an immediate sign of a good restaurant. He and the staff were wonderful, the service was prompt and attentive, and the food was very good. It is not inexpensive, but we were very pleased. Highly recommended. —DottieHoffmann
---
2011-06-07 22:23:41 This place is adorable and DELICIOUS. I don't even want it renovated! It's too cute and exactly fits the old-style, Italian-American feel that you want from a family-owned, Italian dining experience. Our server was extremely helpful and accommodating (regarding my vegetarian needs) and was able to make great recommendations about anything we had questions about. Plus, he told us that if we were even contemplating dessert, then we should go for it and boy, were we happy that we saved room—even though our appetizer and main meals were almost too good to stop eating. AMAZINNNNNG pastries. They have an in-house pastry chef whose confections were to die for. If you want great Italian food with an inviting atmosphere, this is the THE place in Rochester to go. —Hmburl
---
2012-09-25 13:41:20 Yorkshire Terrier National Rescue had our Annual Board Meeting and Awards Banquet at Bacco's September 22, 2012. Our volunteers and Board members flew in to Rochester from all over the country to attend this very special dinner. We were promised a table where we could sit together and a selection of choices from Giovanni's menu. What a great disappointment from the time we were seated until we left. The table that was provided left no space in between each chair for a person to even move, the table extended from one room into another room ending at the staircase to the men and women's restrooms. The people seated in the first room were directly in front of the air conditioner that blew directly onto the guests seated facing it. The guests in the second room had absolutely no air and it was stifling hot! The appetizers were served family style and the calamari was a frozen breaded soggy overly salted disaster. The salad was served without a hint of dressing on it, the entree's were substandard for what we were expecting from an authentic Italian cuisine. The person's who ordered the Vodka ala Penne did not receive their entree until 7:30 and Giovanni's wife approached me and told me that we had to leave before 8:00. The desserts were served at 7:50 and at 7:55 Giovanni came out and told us we had to leave that they had other guests waiting for their tables at 8:00pm. At that point we still had not eaten our dessert or had our coffee nor had we received a bill for our dinners. Our guests waited outside on the sidewalk while I paid a $925.00+ bill. This restaurant is not able to handle a party of 18 people. Never in my life have I been treated so rudely or shoved out of a restaurant with such a greedy motive. —MaryElizabethDugmore