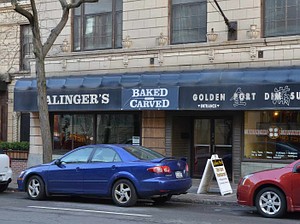 Baked and Carved in Salinger's, Dec 2012
Former Location
107 East Ave, Rochester, NY 14604
Status
CLOSED (as of April 2013)
Baked & Carved was a deli located inside Salinger's. Breads were baked fresh daily and the menu included sandwiches specializing in meats carved fresh each time, soups, and cookies.
It opened on January 15, 2011.
On April 2nd, 2013, it was announced on their Facebook page that they would be closing their business.
Comments:
Note: You must be logged in to add comments
---
2011-01-23 12:19:10 My boyfriend and I went on a Friday night. Salinger's was packed and very loud, which made ordering a little difficult. My boyfriend had the corned beef Reuben on Italian bread and I had the Cuban on Sicilian bread. The bread was very good - nice thick slices, the Italian very soft, and the Sicilian was hearty. The sandwiches were both very good. Great roasting on the meat - the corned beef was very tender, and the pulled pork on the Cuban was pretty good for oven braising. The only miss was the oven roasted slice of ham on the Cuban sandwich. It was a little tough/rubbery, and the entire slice wanted to come out of the sandwich after the first bite. Both sandwiches came with a choice of 2 sides - pickle, chips, or coleslaw. We both had the coleslaw which was good, slightly above average, and the chips, which seemed to be your standard "Ruffles" ridged chips. Overall, we'd try more sandwiches in the future with our tasty experience. —MerCDotes
---
2011-04-28 12:13:12 great fresh roasted turkey - a welcome addition to ROC lunch options!!! —patdoniger
---
2011-06-25 12:08:00 We stopped in during the Jazz Fest for a respite from the din on the street and were pleasantly surprised. Service at the counter was prompt and personal. Both the fresh-roasted turkey and roast beef (hot out of the oven) sandwiches were delicious. The thick-cut freshly-baked breads were divine. And the huge sandwiches (plus two sides) were a good value. Salingers provided a decent selection of beers to wash it all down. A real find for a casual meal in the East End! —JGerek
---
2011-09-11 18:35:59 New Menus have been added and the website is no longer running, a new one will replace it shortly! —Ren
---
2012-04-07 20:37:50 Coming soon- Our own outside patio and Entrance on East Ave! —Ren
---
2013-02-12 16:53:08 Not worth the price tag, it just didn't taste that good. —ginsuguy585