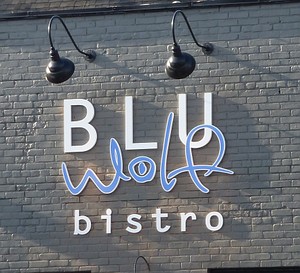 Blu Wolf Bistro is a gastropub that specializes in homemade burgers ground fresh daily. Several appetizers and salads with entrees that include shepards pie, Mahi Mahi, and a Guinness battered fish fry every Friday. They also offer 36 draft beers, another 30 in bottles, and a selection of sixteen varieties of wine. Guests can watch NFL Sunday Ticket while they eat or enjoy outdoor seating when weather permits. Menu is
here. Gluten-free menu available by request.
They opened November 26, 2013. The location was previously Colie's Cafe, under the same owner.
Comments:
Note: You must be logged in to add comments
---
2013-12-09 14:35:50 Went there the other night for drinks late. It's in a good spot and if it lasts it'll be a welcome addition to the Park Ave late night bar scene, as there are only a few bars to go to. The beer list was impressive, and it'll get better once they cut out some of their worst selling beers. The menu looks good, overpriced if the food is not great but acceptable if it is great. But I have yet to try the food. They are in the process of getting their liquor license. I am not sure if that Colie's was unsuccessful or not, or if it just didn't make the profit that they were hoping. It's the same owner and they went with a trendy looking restaurant, and hopefully it pays off for them. —DE
---
2013-12-19 10:04:26 Went back and had dinner this time. My burger was cooked perfectly and the onion rings I had as a side were very good as well. The seating is a little crammed, but I think they did great with their layout, considering how small the restaurant is. The place was packed (on a Wednesday). The service is a bit odd. They had far too many people working. We had four different people wait on us. I don't really see the need for a host, a plethora of servers, multiple bartenders, and what looked to be a manager or two working in such a small restaurant and without their liquor license yet. Honestly, it made it even more crowded, hectic, loud and just odd. When I was there the previous time at 2AM on a Saturday, they still had about four cooks working and cleaning up in the kitchen. Their payroll must be crazy high. These are minor complaints, but something that was pointed out by both people who I visited the place with on separate occasions as well. —DE
---
2013-12-28 19:13:41 What a transformation! The atmosphere is urban and just what Park Ave. needs- totally unlike Colie's. Food is excellent- service is also great and attentive. Give it a try for something new and different. —shawnalusk
---
2014-01-04 21:38:37 Do not plan on going to this place past 9pm without ID even if you make dinner reservations. Way to spoil a date night. —MartinWright
---
2014-01-09 19:27:24 My dining partner likened this to eating at the airport: crowded, loud, very average food, very high prices for what it is. It wasn't bad, but it certainly didn't stand out. Perhaps just a good place to have a beer at the bar, but not a great dinner choice considering all the other options on the Avenue. —DottieHoffmann
---
2014-09-07 14:53:23 Great food. Nice line of beers. Now that they have NFL Sunday ticket, it's turning out to be a Minnesota Vikings bar (which is awesome). —Goldsoup
---
2015-05-26 16:52:40 They now have their liquor license, and have a nice drink menu altogether now. —DE