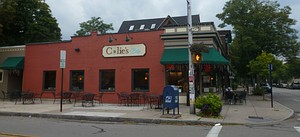 Defunct Park Ave location (Sept. 2012)
Comments:
Note: You must be logged in to add comments
---
2011-06-06 14:28:45 I tried Colie's afteer having been unimpressed with Camille's and I was pleasently suprised. The menu is still very similar, paninis, wraps, salads ect, but they have definately amped up the menu. I had a panini and salad combo which was pretty good. The panini was delicious, however, the caesar salad had very limp lettuce and hardly any dressing which made it practically inedible. However I would definately go back (though just get a whole panini next time). I also love the make your own smoothie, I can pick the base and fruits which is great since I'm picky about what fruits I like. If you didn'y like camille's, it worth giving colie's a shot. —carolturo
---
2011-07-31 12:55:56 I've been to Colie's a couple of times and although I find the food to be decent, the staff at the Park Ave location is the reason I would think twice about going back. I went in on a Thursday evening (about 7:30) and although there were a lot of people eating, there was nobody waiting at the counter and only one person waiting for take-out. I stood at the counter for about ten minutes without anyone even saying hello- and the waitstaff was milling around about two feet from me talking about their evening out. I really want to like locally owned businesses and will always choose one to patronize if there is a choice. I just wasn't impressed this time. —ShawnaLusk
---
2011-08-03 18:45:08 Had a pretty underwhelming experience at the Park Ave. location this afternoon. There was only one server who was also responsible for bussing, making smoothies, etc. We was extremely earnest- a bit too much so- but had difficulty prioritizing tasks and remembering orders. He took our order, then another tables, stopped to bus a table before putting the orders in, and must have put the second tables in before ours as their food came out first. He had to put the order down and check his tickets to remember where it was going.
I had a half panini and soup; the chicken tortilla soup was fine, nothing to write home about, and the panini was really disappointing. It was distinctly lacking in that satisfying crispiness a good panini should have and for a sandwich containing ranch, BBQ and cajun turkey it was extremely bland.
My Mother had a half turkey sandwich and salad which she said were also fine but not outstanding.
I may give them another try- perhaps at another location- but there are plenty of cafes in the area doing this same thing much better. —AmyKate

---
2015-09-14 20:15:36 Noticed this afternoon that the Eastview location's windows are papered over. Signage indicates they will be closed a short (but unspecified) time and will reopen with a different "environment." —markjackson
---
2015-09-22 16:23:22 Signs yesterday said they would reopen today. —markjackson