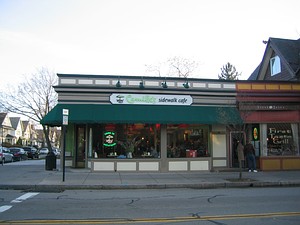 Camille's Sidewalk Cafe on Park Avenue. Photo by Rachel Blumenthal (April 2007)
Status
CLOSED (as of October 2010)
Camille's Sidewalk Cafe is a national franchise cafe that used to have three locations in the Rochester area. The owner of the 3 locations in the Rochester area decided to privatize them, resulting in colie's Cafe in October 2010.
Wi-Fi access was available.
Comments:
Note: You must be logged in to add comments
See Archive Page for comments prior to 2008.
---
2008-01-22 10:25:35 I have changed my mind on Camille's and have decided not to go there any more. This applies to both locations as they have the same owner. First, I don't want to support Camille's based on their support of a political candidate. My second reason could be hearsay, I have heard the owner of Camille's owns the whole building would not renew the lease for their former neighbor, First Taste. Good business move if you ask me, I would have done the same. However I liked First Taste better and would rather side with them. I am boycotting both Rochester Camille's locations from now on. —BadFish
---
2008-01-23 09:19:17 As the above comment is based on an individuals political and personal views and has no comment on food quality or service, it should probably be moved to a talk page. —DarrenKemp
---
2008-01-23 10:20:12 I gave the reasons why I don't patronize Camille's. Disappointment with customer service, food quality and/or the actions of the management are all equally valid points. My above comment should stay here. (I will move this comment and Darren's above to the talk page in a day or two, though.) —BadFish
---
2008-02-26 13:44:56 This place reminds me of Panera except with more wraps. The food is about the same quality but with a cuter interior. The breakfast wraps were strange as they came with egg and veggies which was normal but was also lined with rice as extra filler I assume. It tasted much better when the rice was taken out. There are better places to go for breakfast in either area and on several occasions have had dirty dishes & silverware which kind of puts you off eating there. Service has gone downhill pretty steadily but I would still consider going there for a quick lunch if all the other places were busy. —JaimeTe
---
2008-02-26 13:46:19 I'm not sure how to edit my comment but I wanted to add that my review applies to the Park Ave Camilles and that service/cleanliness at the Monroe Ave one is much much better. —JaimeTe
---
2008-03-27 11:39:38 As a long time resident of the Park Avenue area, I just stumbled on these comments about Camille's that I frequent at least 2 times a week. I can honestly say that I have not experienced what I just read. Have I waited in line, yes but the place was busy. I do not know that I can classify that as bad service. I can say that I have experienced bad lunches everywhere in the Park Avenue area, but when you are looking for something rather than fast food, I will always choose Camille's. The staff is great and I even received a holiday gift from management these past holidays. —AprilRuoff
---
2008-03-27 16:03:51 The Pittsford Plaza location will sell you an entire bottle of wine, which you can smuggle into the theatre next door. Nice! —MariahBetz
---
2008-03-29 13:18:25 So I decided to be a lazy sell out and hypocritically called in an order for pick up from Camille's. The line was huge. I waited 20 minutes to pay for food that was sitting there waiting for me. I had the roast beef panini and a cream soda. It was good but not $9.16 good. Wish their online menu had prices. If I had not pre-ordered my food, I would have not waited and tried Jine's. Next time I will. —BadFish
---
2008-04-20 13:01:50 (Park Ave location.) I don't look for opportunities to trash Camille's, honest! I was with someone else who wanted to go so I agreed. I was happy to see only 4 people in line ahead of us at 10am on Sunday. However the wait AFTER ordering was 20 minutes this time. There was 5 tables seated and only about 7 people ordered during the 20 mins we waited for our food. Some people who ordered before us received their food after us. They were out of fruit and we had to have breakfast with chips and salsa. One of our two orders was wrong and had to be re-done. Not only was there no apology but she implied we ordered wrong. Funny since I ordered by saying, "I will have the same as her", referring to the person I was with who just ordered. One order had almost no bacon in it while mine was nicely loaded. The staff seemed less than pleased to be there. I won't go back again and this time I mean it, honest. No...really. —BadFish
---
2008-04-21 10:02:23 Eh. Thats all I can say about Camilles. The food is ok, not horrid. Atmosphere is ok, but Ive noticed the Park Ave locale to be kind of dirty recently. The place needs a good scrub.
Ive never been to the Pittsford location, Eastview is coming soon, so the Linehan family must be doing pretty well with the franchise. —MrRochester

---
2008-04-27 12:27:19 The food is really bad. I'm not sure I understand why this place is all that different than a Taco Bell franchise : it's about the same quality.I had their Asian-style pizza, and I want to say that smothering pizza crust with honey does not make it Asian-style. The eggs in the breakfast wraps have been cooked at least an hour before the customer eats them. I am not sure why people eat there given JInes and Charlie's Frog Pond are right across the seat and provide better food and better non-sticky-table-seating. —SukanyaBasu
---
2008-09-29 16:25:40 What is it about Pittsford Plaza? The snotty, snobby attitudes of the staff (and many of the patrons) are reason enough to look elsewhere. —JhirkFace
---
2008-12-20 12:26:15 Our least-favorite Park Ave restaurant. Even though we have coupons for this place, we avoid it and go _anywhere_ else we can. From the sugary salad dressings to the rubbery and oddly tasteless breakfast items, we've just been horribly disappointed the few times we went. If you are on the corner of Berkeley and Park trying to decide on a restaurant, just count the people in each of the restaurants on the corner: while Jine's will have scores of people inside (and often a crowd waiting to get in) and Charlie's Frog Pond will be full, Camille's will have only one or two tables occupied, typically by confused-looking people we suspect are trying to figure out why the heck they're there. (ok, that last part might be wishful thinking on my part. . . but I just really don't like the food).
---
2009-03-19 22:50:59 Very very poor customer service. Cashier was VERY rude when I last went. The food is borderline and not worth the cost. Not going back there again! —PrincessB
---
2010-10-26 16:58:00 All 3 local locations are now Colie's Cafe. Source:
YNN Rochester News. Will close this page —TippingPoint