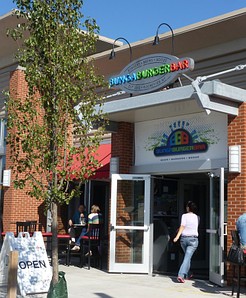 Bunga Burger Bar is a locally owned and operated American restaurant in Upper Mount Hope. They serve gourmet burgers, sandwiches, salads, and wings for lunch and dinner. There is also a full bar with 16 beers on tap that also serves "adult" milkshakes. They also do karaoke.
Their opening day was May 7th, 2013.
Comments:
Note: You must be logged in to add comments
---
2013-06-27 14:04:28 Visited for the first time today, atmosphere is clearly designed for the upcoming UoR college town development. Several large TV screens, should be a great place to watch "the game" regardless of scheduling overlap. Burger was ample and well prepared, though a little buttery for my taste. Most of the burgers are in the ~$10 range (once you include tax/tip). Tap selection appears well chosen for a wide variety of tastes: A stout (or two?), several ales, an IPA or two, and the typical north american lagers. —Josh+W
---
2014-02-10 22:58:39 Positives: great food, great draft beer selection, great service, modern vibe. Minuses: the ambiance— it was so chilly we had to leave our coats on, and the music, which was rather loud, was consistently terrible (worst overplayed pop hits of the 90s and 2000s).
Overall: the positives definitely outweigh the negatives, and we will be back.... but would enjoy our experience more next time if it was a little warmer, and if the music could either feature a greater variety of genres or else be slightly quieter. —ajh

---
2014-03-02 17:42:32 Bought a groupon and was excited to check it out. The burgers and sandwiches we had were delicious, the sweet potato fries a great compliment. Went for lunch, no wait, good service, overall a good experience. The downside is the parking- although they share with Starbucks it is ridiculous to try and park there during busy times. We found a pay spot on the street and grabbed it. Far easier and less frustration than the lots. Will be back.
---
2015-06-30 10:30:36 Went a year or two back, and thought it was a nice little place. The burgers were good. Not dying to go back, but will probably be back one day. —DE