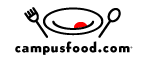 Campusfood.com was an online ordering system that allowed users to place meal orders online from several local restaurants. The locations of service were the RIT and University of Rochester campuses and the areas surrounding them. The site allowed for payment in either the form of cash (at the door) or in the form of a credit card transaction.

Visiting their website would play a funny animation before redirecting to the correct web page.
CampusFood.com was purchased by
GrubHub.com in 2011.
Comments:
Note: You must be logged in to add comments
---
2007-10-18 14:15:15 Last spring, my roommate and I were working on a final project that was due at midnight - it was about 9:30PM and we were starving. Not having time to go out to eat, we had heard of campusfood.com so we logged on and ended up ordering Chinese food. It arrived about 45 minutes later.
Easy to use, and great for late-night food, I recommend this site to all my friends. Oh, and we got our projects in on time. —AlexanderGartley