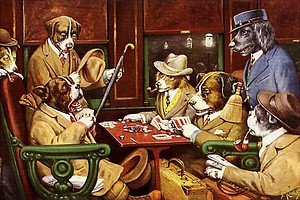 Wikimedia
| | | |
| --- | --- | --- |
| Birth name | | Aliases |
| Cassius Marcellus Coolidge | | None |
| Birth date | | Birth place |
| September 18, 1844 | | Antwerp, NY USA |
| Date of death | | Place of death |
| January 13, 1934 | | New York, NY, USA |
Cassius Marcellus Coolidge, famous for his "dogs playing poker" paintings, was a banker, drugstore owner, writer, inventor, and painter who founded a drugstore in Rochester in 1872. He returned to live in Rochester after an 1873 trip to Europe. While living in Rochester he was a travel writer for the Watertown Times.
There are other references on the internet that indicate that he spent a fair amount of his life in the town of Antwerp, NY, which is up near Watertown. So, some of the information above may not be entirely correct.
Two of his "dogs playing poker" paintings sold at auction in 2005 for over $590K.
Coolidge is also credited with inventing the "Comic Foreground", painted wooden cutouts for taking pictures at carnivals, etc. For local examples, go to Lagoner Farms to be photographed as a flower, fruit, or vegetable.
Coolidge was the illustrator for "Prophet of Peace", a 1906 book by his cousin, Asenath Carver Coolidge which was dedicated to her brother, John Townsend Coolidge, "a believer in peace and jollity".
Google Books -
Notes and References