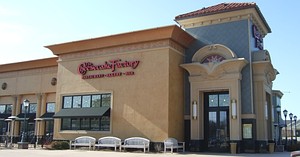 Photo BradMandell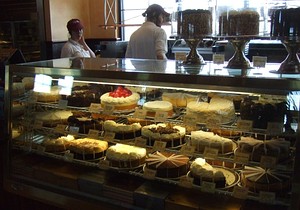 Photo BradMandell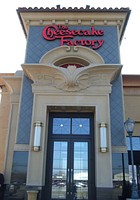 Photo BradMandell
Location
3349 Monroe Ave., Rochester NY, 14618
in Pittsford
Hours (as of December 2012)
Monday-Thursday: 11:30AM to 11:00PM
Friday: 11:30AM to 12:00AM
Saturday: 11:00AM to 12:00AM
Sunday: 10:00AM to 10:00PM
Phone
585 381 8681
Wheechair Accessible
Yes
Alcohol
Yes
Website
http://www.TheCheesecakeFactory.com
Wikipedia
Cheesecake Factory
Chesecake Factory is a chain restaurant located in Pittsford Plaza. The restaurant opened on July 26, 2007.
From their website:The Cheesecake Factory is a unique, upscale casual dining restaurant offering more than 200 menu selections including Appetizers, Pizza, Pasta, Seafood, Steaks, Salads, Sandwiches, and more.
Comments:
Note: You must be logged in to add comments
See Archive Page for comments prior to 2008.
---
2008-02-29 03:11:10 Cheesecake is good but the food is marginal and not worth the price. —EllaBeeney
---
2008-04-03 18:54:34 Food is amazing! Everything is made from scratch. Place is spotless and staff is AMAZING! Never had a bad experience here! The prices are very reasonable for their huge portions (and so much to choose from)! I am so proud that Rochester has a Cheesecake Factory!
---
2008-04-07 21:41:00 Went here with a few former friends. The wait was 2 hours at 8pm on a Thursday. In the meantime, we wandered over to the bar. A mixed drink was $7.50. I don't know if that's a lot, because I can only recall paying for a drink at someplace cheaper where they were half that price. We were finally seated. The atmosphere is reminiscent of a middle school cafeteria. High ceilings, tables so close to one another that they seemed like on big table, everyone shouting to be heard, etc... The decor was poor "ancient" imitation, and one could tell everything was plastic. Besides the pre-seating wait, the wait to even get our menus was ridiculously long, and then after we decided, we ordered. The entrees were pretty expensive, not just "upscale" expensive, but a "for this price I'd better get a pedicure too" type of expensive. The Wal-mart quality cheesecake (and if you've ever eaten cheesecake from Wal-Mart, it is pretty good, but not worth CF prices) was ridiculously a lot of money. I believe it was nearly $10 for one slice. From the loud atmosphere, I had a headache when I got done. And mostly everybody there had a typical "this is Pittsford, so let's be snobby" attitude. And that was my terrible experience there. —JoannaLicata
---
2008-04-08 05:20:59 Having worked in a cheesecake factory in another city & been in a few more, I concur it's loud, higher priced, etc. However, I have tried so many of the meals here when I was a server & overall, it is decent food. And technically, it's at least two-three meals so factor that in to the price. Having such a large menu means that it is easy to bring a group and depending on the cheesecake (some are much better than others) the dessert price is on par with others. Do I prefer local restaurants? yes. Is this better than Applebees. IMHO, yes. Is it worth the long wait, not really. —TriciaSeymour
---
2008-04-08 17:01:03 I visited the Cheesecake Factory in January 2008. Although I wasn't overly impressed with my meal (food seems to be in a similar vein with other chains - Olive Garden, Applebees, etc), I was blown away by the desserts. It is their obvious forte. I was there on a weeknight and considered it to be a pleasant environment. Next time I will meet friends there for drinks/dessert after dinner at home or elsewhere. —ErinDorney
---
2008-05-16 13:12:40 The food here is awful, but the desserts are awesome! I did try their signature dish, chicken madeira, it wasnt bad, but still nothing amazing. —MrRochester
---
2008-06-24 00:35:50 Disgusting food with absolutely no taste and they messed up my order. Horrible service. Our waiter kept attending to the two booths in front of us, but never us. He had someone else box our leftovers and after 20 minutes, I had to get up and ask a waitress for our check. After another 5 minutes, he finally gave us our check and just stood there like he was just going to wait for us to pay. Over-priced food and horrible drinks (non-alcoholic and alcoholic alike). Don't go to the one in Pittsford Plaza! —snoopyhead101
---
2008-06-25 21:52:23 Don't know why you would ever want to go there —ThomasPawlik
---
2008-10-08 20:18:57 The last time we were here our waiter pitched us his "business plan" for a grocery delivery service. Sound outrageous? We thought so too. It was awkward and the quality of the food, while standard, did not give us any reason to go back. I doubt our absence will be missed since the wait was long. —ShawnaLusk
---
2008-10-22 09:32:35 Ate here with my wife last night, for probably the fourth or fifth time. In the past, I've enjoyed it. The food was good, the service was attentive, and the desserts are excellent. Alas, last night was not as enjoyable. I ordered tuna - rare - and it was nearly well done. Fortunately, the manager did take it off the bill. And it DID taste good, even though they apparently really wanted to make sure the fish on my plate was dead. They were also really slow making rice, so it delayed getting dinner. We typically go to dinner around 8pm which is GREAT in this town, because it seems like everyone goes out at 7pm. So, getting a table was no problem at all. My wife had a very tasty salad entre. And we rounded it all out with a very tasty hot fudge sundae. So, it was an OK experience, but considering our other visits have been good, will definitely be back. If you're not a fan of chain restaurants then don't go here because it will not mesh with your moral convictions. However, if you're willing to look past that, go ahead and enjoy. —DavidGottfried
---
2009-01-22 18:29:10 I don't understand why everyone is hating on this restaurant. I've been there half a dozen times and always had a great experience with great food, and most of all, delicious cheesecake. Also, they have a great mixed drink menu that includes passion fruit mojitos that are out of this world. I wouldn't waste my money taking my kids here, but this is a great restaurant to hang out with some friends or take your mother to dinner for her birthday. —CatMagro
---
2009-02-19 22:26:23 The food is good, but I just take a dim view of places like this where the wait is way out of proportion to the quality. There are several places offering better priced food, maybe a bit more or less tasty than this place's, within two miles. Why herd in like sheep here, when you could go elsewhere, shorter wait, cheaper prices, comparable food?
Other note: My daughter and her friends went there for dinner and had a mediocre experience. Despite their being polite and well-groomed, and getting there at 4:45 (before the big rush, and on a Thursday night), the treatment they got from the hostess and waitstaff was rude, indifferent, and incompetent (likely stemming from indifference), for what I presume is no reason other than they were all 18. They had a good-sized gift card and were ready to spend; when they were treated like dirt, they scaled back from what they would have done, including of course on the tip.
Hello, you're the Cheese Chain Cake Freaking Factory in Pittsford Freaking Plaza - not some velvet-rope five-star restaurant! You just lost the business of four young prospective future customers, and probably their families. Nice work. —bionicsimmons

---
2009-03-14 18:48:00 My wife and I stopped by late afternoon today and had a great time with great service (thanks Melissa). Nice BIG glass mug of good coffee, stack of fried zucchini sticks were well presented and had a light tasty coating. The stuffed mushrooms were a favorite for my wife - loaded with flavors. We split a Caramel Chicken - a sweet spicy sauce with bits of carrots and such. Splitting the dish was economical and gave us room for the Adams Peanut Butter Cheesecake - FANTASTIC. We loved the Cheesecake Factory on the waterfront in Baltimore Harbor back in the 80s/90's, this was our first trip to Pittsford. We were happy we came early as there was a big crowd waiting to get seated when we left. —BradMandell
---
2009-03-19 22:53:20 Large portions are well worth the cost! Our waitress was very sweet and nice. The cheesecake is obviously wonderful and I personally love the decor. —PrincessB
---
2009-11-07 16:07:00 the perfect place for clueless suburban housewives who wouldn't know good food if it crawled on their lap with a fist full of daisies. The place is pure kitsch, and the food is meh. The cheesecake sucks. I would reccomend taking a few xanax and actually...*gasp*...go into the city for some real culture. This corporate mess of a restaurant isn't wot you time and money. —BillTramp
---
2010-12-27 02:20:00 Ate once, and the overall experience was meh. The desserts are indeed great, though. —DE
---
2011-01-06 15:25:00 I went to the Cheesecake Factory with my wife Cindy. I'm usually patient with these types of places, but last night I was put over the edge. First, after waiting nearly 30 minutes after we were told it would be 10, the hostess sat us at our table. This would have been fine except for the fact that she came back two minutes later and told us that she sat us at the wrong table. Are you kidding me? For some reason the staff was unable to solve their seating dilemma without having to move two people who had already been sitting at their table wondering where in the lord's name the server was. After they readjusted our table arrangements, a young lady came to get our drink order... Cindy ordered the factory peach bellini and I had the frozen iced mango smoothie. We decided to order as soon as our kooky concoctions came to the table. Cindy ordered a weight management asian chicken salad and I ordered the fish and chips. When the food runner brought two sheppards pies to our table, we sent them back, left a ten on the table and departed. We'll never be back. —GreeceWebster

---
2011-01-22 19:16:49 Wow, apparently people generally review this restaurant only when they've had a horrific experience. I'm very much a foodie, but I wouldn't say the food is bad, especially considering the generous portions. And the cheesecake is excellent; people who say it "sucks" or is "Wal-mart quality" are either out of their minds or have never had real cheesecake. I agree it's not worth a 2-hour wait, but in Rochester wait times usually have more to do with the day/time of the week than with the quality of food—hence why there is always at least an hour wait at Pizzeria Uno's or Red Lobster on Friday nights. —JosephMark
---
2011-06-16 12:35:12 I love the food, it's something different for once and it's always hot and fresh. The selection is such a nice change from the typical chains around rochester, but the menu can be overwhelming. The mixed drinks are also great, they're a bit on the pricey side but they actually taste like they're made with real fruit so it's worth the money for me. I haven't had the cheesecake, I don't like cheesecake plus I'm lactose intolerant so I have no opinion on that. I have to agree with JosephMark that people must only come here to complain, but everyone I've talked to irl has had good experiences and really likes the food.
---
2012-01-30 14:47:06 We ate here for the first time on Saturday, 1/28. We usually don't go to chain restaurants but since I won a $25 gift certificate at work we decided to redeem it. I was a little apprehensive based on the negative comments here but I'm happy to report we enjoyed what we ordered. Since we were there for lunch, Gary ordered the chicken burrito and I had the fish tacos. We enjoyed both meals and the burrito was so big I was able to help eat some of it! We liked the atmosphere. The acoustics are such that although the restaurant was doing a brisk business, it wasn't noisy. Also, we found our server to be helpful and efficient. —Bob&Gary