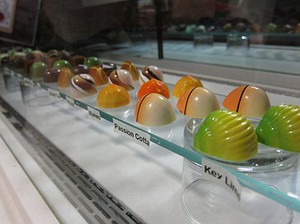 On display, try not to drool 2-2011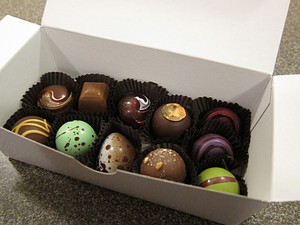 Ready for travel, 2-2011
Former Location
757 University Avenue, Rochester NY, 14607
Hours (as of September 30, 2021)
Closed
Comments:
Note: You must be logged in to add comments
---
2009-12-14 18:26:05 Went here for the first time with my wife and had a great experience. Really nice selection of chocolates, coffees, teas, etc. Prices are a little high, but the quality is excellent - and as the saying goes, you get what you pay for. Had dinner at 2 Vine earlier and passed on dessert over there to give these guys a shot, and I'm glad we did. Give em' a try! —DavidGottfried
---
2009-12-20 15:22:43 Went last night. Coffee and desserts were great. I had the Mini Key Lime Cheesecake and my wife had the Cappuccino Truffle Gelato. Only complaint I have is the seating. Once it gets crowded you feel on top of one another. The man at the table behind me kept backing into my chair. I would like to see the owners remove the pool table and add additional tables in the front room. —ScottHendler
---
2009-12-21 09:06:07 Went here Saturday night for the first time. Very nice wine selection; red, white and dessert wines. Ordered two glasses of Malbec, Chocolate Ganache Cheesecake and the Chocolate Caramel Pyramid. Total came to about $30 without tip. Desserts were excellent and the Malbec was a great pairing. Danielle, the owner, made sure we picked a wine that would compliment our desserts. All of the desserts are imported from France and Italy. They also sell little chocolates if you are only looking for a small little treat for yourself. The service was great and the decor is very nice. Definitely recommend going here after a nice meal out. —MarieS
---
2009-12-30 19:10:22 went there with the girls right as it opened. delicious cheese, great service!
---
2010-02-15 19:47:28 Went here for dessert after dinner on Valentines Day. Friendly and helpful service. I enjoyed the pairing of a mini key lime cheesecake and a glass of Herman Weimer Gewürztraminer. My boyfriend was less impressed with his creme brulee. He hoped that it would be fresh made with a carmelized top, but instead it was a layer of creme brulee between two layers of fruity whatnot in a glass dish. Very pretty but obviously not freshly prepared and no carmelized top, so it seemed rather overpriced. He did enjoy his french press coffee. I would definitely return, maybe with some girlfriends for an evening out. It would be great if they started serving fondue here, since they already have the chocolate/cheese/wine theme going on... —OxfordWriter
---
2010-04-07 09:24:53 Stopped by here on a lark with a fairly large group after visiting an opening at the photo studio a couple of weeks ago. We were immediately accommodated by a proud owner who was eager to make our experience more than just "treats and drinks". She has taken great care in curating a menu that pairs various house-made chocolates with beer and wine. As a beer drinker, I was really pleased with the selection of bottled domestic, micro, and european beers. I paired the Rochefort 6 with a "cinammon roll" chocolate per the menu suggestion and split a cheese plate with my sister-in-law. The chocolate paired excellently with the beer, and the cheese plate was just fantastic, full of generous portions of soft and hard cheeses. Danielle was awesome, and took really great care of us the whole evening. I'd recommend this place as a great Friday after-work experience, or like we did, stop by after an art opening and relax with your friends. We wound up skipping dinner that night and filling up on cheese and beer we had so much fun. —ErikReinert
---
2011-07-22 08:48:48 A weekly stop for us, excellent drinks, great wine & beer selection, fabulous cheeses, fantastic chocolates and pastries, and they carry the best cupcakes in town! —JackPorcello
---
2012-03-10 09:29:42 Only have ever had the homemade chocolates and chocolate desserts here and they are out of this world. The first time I went, I was blown away at how delicious and unbelievably delicious everything was. This is the best chocolatier in Rochester and it's absolutely worth it for the price. Great for a date or a night out with someone special after dinner. Very caring, very well done, very refined. Just wow. Extremely recommended. —AGoldman
---
2012-08-28 15:45:03 I don't understand why this place is listed as a restaurant??? It's a wine bar. —gordonanderson
---
2014-01-04 11:33:24 I thought I saw info that this place was going to close. Is it still open? Well I just called the number and they have a message there so I assume they are still open. —badfish
---
2021-10-04 12:10:19 Permanently closed - last day open was 9/30/21. —AdrienneDahler