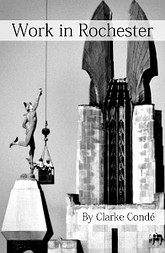 Work in Rochester.
Clarke Condé is a photographer, editor and political consultant based in Rochester, New York.
A Rochester native, and literally an old school alumnus of Rochester's School of the Arts, Condé began his photographic career directly out of high school shooting cars for sale at $5 a photo. He became a fixture in local union and political circles as the editor of the local labor newspaper, The Labor News, photographing workers and community leaders from an insider's perspective.
Work in Rochester
In January 2011, Condé began a daily, year-long project photographing Rochester's workers that would become the book Work in Rochester. The 365 photographs of Work in Rochester stand as a personal and intimate visual record of the people that collectively create the Rochester economy.
The Rochester Contemporary Art Center featured all 365 photographs in the exhibit Work It in April, 2012.
The South Wedge Quarterly
In November 2012, Condé launched The South Wedge Quarterly, a lifestyle magazine focused on Rochester's South Wedge neighborhood.