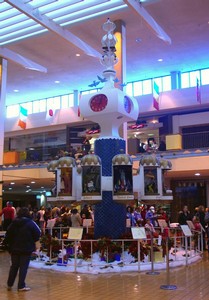 Clock at Christmas 2007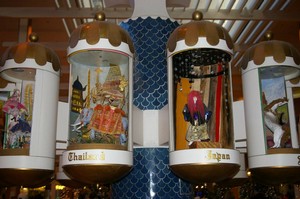 Clock detail, 12-2007
Clock of the Nations was the centerpiece of 7½ acre Midtown Plaza in downtown Rochester, NY from the early 1960's to 2008. The clock opens on the hour and half-hour to display scenes of dancing marionettes from 12 nations. Midtown Plaza holds the honor of being the first indoor shopping mall in the nation, opening in 1962.
REFERENCE:
Wikipedia article on Midtown Plaza
Per an article in today's Democrat and Chronicle (3-17-2008) Artisan Works, a local art gallery on Blossom Road, is trying to secure the clock for exhibit in their space, after Midtown Plaza closes.
As of 5 May 2008, the Clock of the Nations has been removed from Midtown Plaza. Per an article on News 13 WHAM, the clock will be displayed at the Greater Rochester International Airport until 2012. It will be located in the middle of the airport's food court observatory. It will then be donated to the Golisano Children's Hospital at Strong.