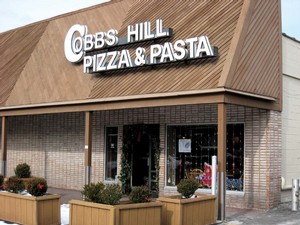 Front View - 1-2008
Former Location
630 Park Avenue, Rochester NY, 14607
Hours (as of May 2016)
Closed
Comments:
Note: You must be logged in to add comments
---
2007-01-28 20:46:54 I'm a big fan of Cobb's Hill. The pizza is a little on the greasy side, but still quite tasty. Excellent wings, too. The service is always good and friendly. Very home-y nice atmosphere. —MisterElkington
---
2007-03-25 22:14:08 I am not happy they don't have pizza fingers or logs. I would go more if they did. —GaryPalmerJr
---
2007-03-25 23:58:55 I agree with just about everything MisterElkington said. Pizza is a little greasy but very good, wings are good, and service is friendly. —StevenDibelius
---
2007-03-28 18:43:26 I wasn't very impressed, maybe because it was a late weekday night but it was the worst pizza I've had in Rochester and I'm a "even bad pizza is good pizza" kind of guy. The service was good and the speed was decent. —TravisOwens
---
2007-04-20 21:36:36 I have not yet had bad pizza at Cobbs Hill. Yes, a tad greasy but, if it bothered me I'd order a veggie pizza. Nice crust, great sauce...love it. Seating is pretty tight. If they're busy, it's really uncomfortable. —BobWelton
---
2007-09-20 13:38:20 I've eaten here quite a few times, most recently last night. I normally don't order pizza, because the nice thing about Cobbs Hill is the variety of the menu. Normally the food is okay, not really good, but not bad either. A good place to eat if you're doing laundry at the laundromat next door! —SaraChristine
---
2008-03-21 11:46:30 I went here recently for a cheeseburger bomber. It was good but not quite as good as I remember. There were a couple peppers on it, maybe from the meat sauce? Anyway, the girl who took my order said it would be "10 -15 minutes". I said are you sure because I have to run. She said yeah. 20 minutes later I asked how the my sandwich was doing. She went into the back and they got all quiet. (You can hear the kitchen staff from the waiting area and that 15 seconds was the only 15 seconds they were quiet the whole time I was in there.) She said he was just "pulling it out" right now. Funny since it wasn't something you put in the oven. 10 minutes later, which is 30 minutes after I ordered it, I got my sandwich. I suspect they forgot to do the order and started it when I asked her about it. —BadFish
---
2008-05-06 16:06:22 Food is ok, but I wouldnt go often.
Great if you are in a hurry, have an Italian fix, and on Park Ave. —MrRochester

---
2008-07-20 17:45:03 Bring cash. They don't take debit, and you'll have to use a very outdated miniature ATM on the counter to pay.
The pizza is toward the low end of the spectrum (I think of Salvatore's as 'average' for Rochester). The sauce has the flavor of Campbell's tomato soup. —ZachSmalt

---
2009-03-21 14:19:34 Never had any problems with Cobbs Hill except for the poor attitude the staff gives off. The food is generic but does the job. Until recently I would go back, but I received the most absurd statement from an employee when placing a pick-up order. I asked for mostly homefries and a little bit of mac salad on my garbage plate. Usually people get half and half but I like 3/4 homefries. This was too much math for this man to fathom and apparently he was going to make me pay $2.30 extra for the little bit of mac I asked for. I will never return, apparently the owners don't teach their employees basic business standards, the employee is always right, and I wasn't even making a bogus request. SO for the selfishness and anger of this man, they received this nasty post. I will never return, not because I have seen workers handling food with no gloves, but because of this act of poor business management. —JonSmith
---
2009-08-07 14:06:20 I've been getting pizza from CHP since they were in their old location on Monroe (where New Ming is located now) and I've always loved it. The pepperoni is definitely greasy but I always order it anyway because it's that good. As for their sauce tasting like tomato soup, couldn't disagree more - I think that their sauce is what makes the pizza. Been taking my family there a few times a month for over a year now and regardless of what I order it's always good. It's my second favorite pizza, right behind Pizza Stop. —RichardSchreiber
---
2009-11-04 16:58:34 So, I decided to give their pizza a try even thought the reviews weren't great and the Pizza Blog Guy also didn't give them a great review. I thought the Pizza was excellent. There was no greasy bottom as the Pizza Blog noted and the buffalo chicken pizza was GREAT (the best in rochester). Can't wait to go again. —meghanoo
---
2011-03-07 17:17:46 I eat here sometimes when I'm doing laundry. It's pretty good, if you're in the mood for greasy winter food (which I usually am). —jabyrd3
---
2011-04-10 11:43:26 the best "plate" in town. Hands down. Haven't had their pizza - frankly, can't imagine a reason to order anything other than their "plates". —MarcusKroll
---
2016-06-05 13:43:28 Anyone know what's up with this space? The sign's down and there's some sort of Bistro in there now. —LtPowers
---
2016-10-14 09:02:45 It's now Bistro six30. I don't know if it's under new ownership or not. Reviews online are good, although a very very small sample size. I've walked by the place a few times and it hasn't looked busy, unfortunately. They don't seem to have any online presence. —DE