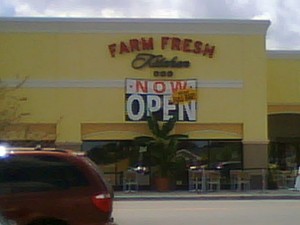 As the sign says, Farm Fresh Kitchen is 'now open' in Pittsford Plaza.
Former Location
3349 Monroe Ave., Pittsford NY, 14534
Status
CLOSED (as of October 2009)
Coppergrass Bistro, formerly Farm Fresh Kitchen, was a casual gourmet restaurant in Pittsford Plaza that opened in Summer 2008. The restaurant's motto is "Good-For-You Gourmet." It's menu boasts that it's supplied by local farmers, and it also has nutrition facts about each meal.
Comments:
Note: You must be logged in to add comments
---
2008-08-03 19:22:27 I liked the herb-crusted tilapia - the accompanying vegetables were perfectly seasoned. The interior is very nice, with pictures of vegetables on the walls and a farmhouse feel. Casual gourmet isn't my thing - but I'll gladly go to here over a national chain like the Cheesecake Factory. —ZachSmalt
---
2008-08-04 13:28:13 Had dinner here about a week ago and loved every second of it. Had the gnocchi w/kale + parm in broth for app and it was delicious. I had the salmon and it was flavorful and genius, though I did find the quinoa a bit salty. My partner had the crab stuffed shrimp...divine. For dessert we had the goat cheese panna cotta (loved it, though I know it may not be for everyone) and my partner had the orange crepe. We can't wait to go back. —MarcVera
---
2008-09-05 22:09:31 Limited menu but my wife and I liked what we tried. The smoked chicken breast with braised "lollipop" chicken in Red wine sauce was delicious. My wife enjoyed her wheat orecchiatte. Portions are a good size and we were to full to try any dessert. I felt good knowing the nutritional information about the food we ate. —ScottHendler
---
2008-09-12 13:29:08 Hangar steaks burnt. Salmon burnt. Both boring. Stuffed shrimp very good. Crepe with espresso mousse amazing. Prices HIGH. In future I would grab a healthy dinner at Camille's across the plaza, and just go here for dessert. —AmyLa
---
2008-11-29 22:23:48 Farm Fresh Kitchen has changed names. It's now called Copper Grill Bistro. Same chef, same owners, menu is a bit different (more variety, more butter!), but still AMAZING. All fresh ingredients. I'd eat here every day if I could. —MarcVera
---
2008-12-01 10:50:26 I ate at Farm Fresh Kitchen (I guess it changed recently) and enjoyed my pasta immensely. Nice place inside and adequate waitstaff. But my friends had seafood dishes and were very disappointed. I hope the new incarnation does well. I guess Rochester just isnt into the health food restaurant craze, Tasteology and now Farm Fresh Kitchen bite the dust. —MrRochester
---
2008-12-03 20:31:59 New name is CopperGrass Bistro. See menu at www.coppergrassbistro.com. Note similarity to previous. —JGerek
---
2009-01-15 11:45:32 Today's D&C has
an article on Farm Fresh Kitchen's transition. —RyanTucker
---
2009-02-04 11:03:53 Went on New Year's Eve and had an *amazing meal* with a surprise complimentary glass of champagne. Service was nice even after it got busy. We ordered the duck meatballs as an appetizer and loved them. Never thought of a duck meatball before but they were really good. The tenderloin was achingly good and she loved the scallops. . Perfect portions. Excellent presentation. Good wine list. They feature ingredients from local farms, etc. Everything was fabulous. I can't wait to go back here. —PersonFace
---
2009-02-15 09:54:52 My husband and I ate at this restaurant for Valentine's Day. We eat at upscale restaurants frequently, and this ranks up with the best in Rochester from a food perspective. We both started off with the beet salad. It was so perfect, I could have ended the meal right there and been happy. Red and golden beets surrounding perfectly fresh mixed greens (unusual ones) and topped with three small rounds of nut encrusted goat cheese, topped with a blood orange vinegarette. The presentation was beautiful and so appetizing. It tasted great, but my entree was even better. I had coq au vin - - which turned out to be perfectly braised chicken breast that you honestly didn't even need a knife to cut. It was that tender. It had the flavors of red wine and also a hint of smokiness. It was accompanied by a mushroom ragu with bacon - - super flavorful - - and topped with a large ravioli that I believe was stuffed with mushrooms too (but ones that had been food processed to make more of a ravioli-style filling). I think this dish is unmatched in Rochester. Simple, delicious, and definitely something I'll be craving. My husband had the filet which was beautifully prepared and presented and cooked perfectly. We shared the dark chocolate mousse dessert; the menu really understated this dessert. The mousse was served between two thin cookies and over meringue so there was this combination of flavors and textures that was just delightful. The chocolate flavor was truly dark, and the mousse was really rich and satisfying (not overly aerated).
I cannot WAIT to go back here. To top it off, the service we received was very warm. For Valentine's Day they gave roses to the women and a boxed truffle to each guest. A nice touch. But unnecessary as the dinner stood on its own.
The atmosphere is actually casual while the food seemed decidedly upscale. So you can get a great meal and wear jeans (we didn't, but others did).
---
2009-03-06 14:28:11 I ate here last night. Restaurant was clean, service was very nice, food was good (beet salad and risotto). Pretty much a clone of any of the upscale restaurants in Rochester, 2Vine, Bamba Bistro etc.... Nothing new or fantastic or different. I give it a B+ on taste but D on originality. —HyunMee
---
2009-03-06 15:12:09 Tried the new Coppergrass last night. Food was good, but not amazing. Portions were very small for what I paid. $28 filet for about 5oz of steak, that would be a great deal for 9oz, not 5. 5oz of steak is not filling or acceptable, I wasnt ordering tournedos, or tips, I wanted a filet. They skimped on the potato puree (mashed) as well. The interior is the the same as Farm Fresh, still very nice, and waitstaff was adequate. Id go back, but not often. —MrRochester
---
2009-05-14 11:22:29 Had lunch here recently. Not awful, but very overpriced for what it is worth. My companion got the burger, came only with a very small portion of greens on the side, and COST $12. $12 for a burger at a plaza in Rochester with no proper side dish? While the concept seems to be freshness, the presentation does nothing to enhance this, the food all looking pretty sparse and pale. The burger tasted pretty good, but no better than a $6-$7 pub burger with at least some fries. The chefs seem to get off on lots of squirt bottle sauces on the plates (perhaps thinking this justifies the prices?), but this means nothing without flavors, and the flavors were not there. Server knew nothing about how the fished was cooked, seemed generally confused by the question. Pretty interesting wine selection though. —eatndrink

---
2009-07-03 17:36:42 Nice atmosphere, good wine, and our sever was wonderful (although she didn't know what 'vegan' meant and I had to send back my entree). Our food was TERRIBLE. I might not even leave a review seeing as I'm vegan and nearly impossible to feed out, but the two people I was with agreed: never going again. The food was boring and overpriced, certainly not worth the quality or quantity. We didn't have dessert so I can't say anything about that, but their mushroom ravioli was awful (and I'll eat most anything that doesn't have animal products!). The two other people I was with said the cod was boring, and that they could do much better themselves (and neither like to cook!)
If you want good food and good atmosphere at Pittsford Plaza, go to Benucci's or The Cheesecake Factory. —Sionainn

---
2009-07-12 19:58:00 My wife and I had dinner at Coppergrass Bistro in Friday night. It was not busy. The live music was too loud and the room, all hardwoods, echoed badly.
We started off splitting a Heirloom Tomato salad. When I saw grilled Ridicchio I expected a lot and all we got was a couple of small pieces and a big pile of baby spinach. Not, to me, when was promised on the menu and certainly not a $10.00 salad.
Too bad we both had the pan seared scallops. We couldn't compare more than one disk. The scallops were large and seared nicely but we both thought they were tasteless and the sweet corn and couscous was all corn and no couscous. At least we couldn't find any.
With a couple of glasses of house wine the bill was $92.00. This just flat out was not a $92.00 dinner.
We will never be back.

---
2009-08-03 18:12:13 Went last night for the first time. Prices are in the range of any and most upscale restaurants in Rochester. Good but not great. There's a $15 off gift certificate in the Insider when you purchase 2 or more entrees. Without the coupon, we probably would have felt very disappointed with the food prep & cost. —Leisel
---
2009-10-30 10:02:20 Seems to be closed —ThomasPawlik
---
2009-11-04 14:34:10 Article in the D&C today stated that they are officially closed. —dmarie