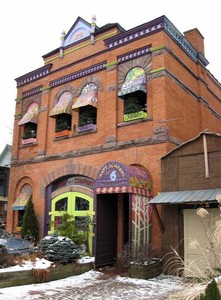 Craft Co #6 - January 2008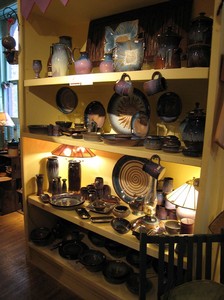 Interior - January 2008
Chubby stands guard outside Craft Co. No. 6 - July 2010
Location
785 University Ave, Rochester, NY 14607
Hours (as of June 2014)
Monday - Saturday: 10:00AM to 6:00PM
Sunday: Noon to 5:00PM
Phone
585 473 3413 / 800 868 2327
Wheelchair Accessible
Ramp can be requested for front door access
Website
http://www.CraftCompany.com
Craft Company No.6 is a gift shop in the Neighborhood of the Arts that sells American-made handcrafts such as jewelry, pottery, glass, metals, furniture, knickknacks, gourmet foods, garden decor, and more. The building, known for its brightly colored trim and awnings, is the former Firehouse #6 and consists of two stories and multiple rooms. The old fire pole can still be seen near the front. For the holiday gift season, Craft Company No. 6 likes to go all out and decorate even more than usual for their Night of Lights Event.
The store used to expand to the rear of the building. In August 2011, however, the former owners moved back in and this area was subsequently closed, along with part of the alley garden. Prior thereto, the downstairs kitchen was used to showcase culinary products.
Craft Company No.6 was sold February 1, 2014 to Kathleen Verzillo. It exists under the same name and has reopened the luxury apartment at the back of the store, as well as another room upstairs and the entirety of the courtyard. The new owners have worked to bring more local artists into the store and revitalize the building's interior and exterior with updated layout and lighting.
Comments:
Note: You must be logged in to add comments
---
2006-02-16 19:26:10 This store won the "Point of Local Pride" category in City's "Best of Rochester" competition this year. —MariahBetz
---
2007-10-27 11:33:48 I've only been here once, but really enjoyed it. Lots to look at. Bought some huckleberry gummy bears. —MarcVera