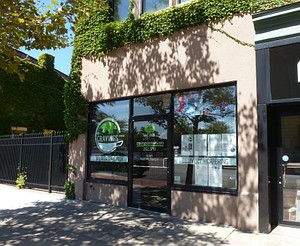 Cravings is a downtown restaurant specializing in take out, catering, and delivery. The menu includes a variety of sandwiches, salads, desserts, and more. Vegetarian options are available. Breakfast is served until 10:00AM. Catering requires 24 hours notice.
Delivery is available between 7:00AM and 10:00AM for breakfast (order must be called in by 9:30) and between 10:30AM and 2:00PM for lunch (order must be called in by 1:30.) There's a $10 minimum delivery charge downtown and $20 outside of downtown. A 10% delivery charge is added to orders of $50 or more.
Located in the Cascade District.
Comments:
Note: You must be logged in to add comments
---
2008-07-22 11:54:00 I've taken out lunch from here a couple times, and it was really good (and fast.) I got the French dip, which is served on buttery toasted sourdough and comes with homemade chips and garnish salad (some sort of pasta thing.) They use "Al Cohen's famous breads." I'm not sure who Al is or if his breads are really famous, but they're definitely tasty. There are tons of different sandwiches and other stuff on the menu, so if you want an office event catered, you'll probably be able to make everyone happy. —RachelBlumenthal
---
2008-07-22 15:11:26 Al Cohen Bakery is a famous rye bread bakery in Buffalo, NY. It has been around for a long time and makes seeded, no seed, and dark "Jewish rye bread." I do not know if it is kosher. I don't think they make anything except rye bread. —RxScabin
---
2009-09-11 12:03:58 Went here today with some co-workers for lunch. They have great sandwiches and it's the best option I have found in downtown Rochester. Some things are better "deals" that other things. Today I got grilled cheese on sourdough and it was huge but my co-workers on wheat was very small. All sandwiches come with homemade chips and a garnish salad - I really love their ramen noodle salad that they give! —goldengirl217
---
2010-02-18 15:37:31 Al Cohen's Bakery is located in Buffalo, NY and distributes in various states. In addition to the bread you enjoyed, we have a variety of fresh and frozen goods available. Retail purchases can be made at Wegmans, and numerous supermarkets, and wholesale orders can be placed through Mid State distributors, Will Poultry, and Mapleleaf foods. We also have an excellent pizza dough... you might be surprised to find your favorite pizza place is serving Al Cohen's Dough made to their specifications! Thanks for the compliments! —KellyDiDomenico
---
2010-08-05 14:02:16 Ive been a customer of cravings since day one it opened. Over the years the menu and restaurant alone have grown to become one of the best destinations in downtown Rochester to get breakfast or lunch. They recently expanded there sub industry with there new french bread rolls. Ive been ordering a sub to eat for lunch then one to go for my dinner. You can tell that Mikie and Rex (owners) really care about there customers and want to make there experience the best as possible. I remember one day a customer said that soda cans get much colder and are cheaper than bottles of soda and what do you know, they are serving soda cans now. This is a wonderful restaurant that if your in the area of main street or even downtown Rochester (they deliver too!) to try and order from cravings. You'll soon fall in love with the food as everyone else has. —MichealThomas
---
2010-09-22 22:48:13 Very yummy. I wish their hours were longer. —AdrianMartin
---
2012-05-27 23:48:11 Their food is great, but the guy who answers the phone is a complete jerk. We order from there all the time. A couple of weeks ago, they messed up our order. I knew when the girl dropped off the food I knew that it was wrong. I expressed my disconnect to the girl, but told her it was not her fault, tipped her and everything. We went to order there last week, and I am now banned from ordering. Just a word from the wise, if you order from there, and like the food, do plan on sticking up for yourself if something is wrong. You'll never get their food again. —KRBURKE