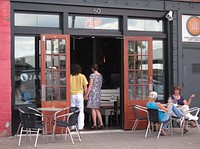 Cure exterior, August 2012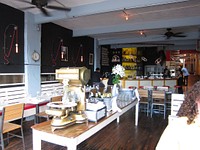 Cure interior, August 2012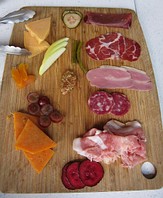 Charcuterie Platter, August 2012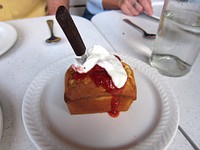 Dessert !, August 2012
Location
50 Public Market, Rochester, NY 14609
Hours (as of May 2016)
Lunch: Tuesday - Friday: 11:00AM to 2:30PM
Wednesday - Sunday: 5:00PM until 11:00PM, bar open until 2:00AM
Sunday brunch: 11:00AM to 2:00PM
Phone
585 563 7941
Wheelchair Accessible
Yes
Alcohol
Yes
Website
http://CureBar.net
Facebook
CURE is a cocktail lounge and French restaurant, located in the Market District, that prides itself on fresh, locally-sourced ingredients. They share their space with Java's at the Market Coffee Roasters.
The owners are from Good Luck and started the restaurant on June 6, 2012.
Comments:
Note: You must be logged in to add comments
---
2012-07-27 09:18:31 We finally got around to trying this place out last night, and wow, it was definitely worth it! My new favorite place in Rochester. We had both rillettes (pork and salmon), which were great, the grilled bread and butter, anchovies on toasted bread, shaved asparagus salad, and black cavatelli pasta. Everything was delicious, atmosphere was great, service was great. My only minor complaint is that everything was a little oily - pasta was oily and bread was all grilled but with maybe a little too much oil. Amazing though! We will definitely be back. It is great to see something open in the nighttime at the market - I hope more places follow. —goldengirl217
---
2012-07-27 11:47:09 I was looking forward to trying Cure even before they were open. Three of us met there on a Thursday night and had a really enjoyable meal. The ambience was relaxed and perfect for having a leisurely dinner. They had a good crowd with most of the tables full, but the restaurant wasn't loud. It was great to be able to converse comfortably. We started with cocktails. Very creative and fresh, maybe a little small but that could have just been the week I was having. Nice wine list, too...small selection but thoughtfully chosen.
I really like the small plate/sharing philosophy. We ordered a little too much food: the pork and salmon rillettes, the tapenade trio, shaved asparagus, black cavatelli and the veal meatballs. (The leftover meatballs might have been even better the next day though.) And even though we were stuffed, we couldn't say no to the creme fraiche with berries. Everything was excellent and made me resolve to come back for the dishes we didn't order. The pacing of the food was well done. The server was very good at clearing or consolidating plates when something new was brought to the table. I never felt overwhelmed by a flood of plates. Throughout the meal, we never felt rushed and at the end of the meal, we were left to talk. It was exactly the experience I had hoped for. —meem

---
2012-10-01 07:17:38 We've had two good experiences here so far. The menu is limited but that's fine, do less things and do them well seems to be the philosophy. We've tried numerous items and although we did like some better then others, nothing was a let-down. Same thing with cocktails, wine, and beer, a short list of each but good selections. The shared plates approach is fun, you probably need to do it with at least four people, it generates good conversation as each item comes out. Service has been very pleasant. It is a loud place, lots of hard surfaces, so a little tricky to talk to your dining companions sometimes. Also, now that the weather is cool, sitting at the tables near the door exposes you to a chilly breeze each time someone comes in or out. Maybe they can set something up outside the door to block the cold air, or perhaps latch the main door and let people enter through the bakery? —DottieHoffmann
---
2012-10-10 15:42:42 Went here last Saturday night, and all I can say is WOW. I sat at the bar, as I was by myself, and have an absolutely fantastic dining experience. Tried three different cocktails - the Reardon, the Jamrock Old Fashioned, and another one that I can't remember the name of. All were outstanding. Started off with the Pheasant and black truffle sausages, served with maybe the best brussels sprouts I've ever had, and a mix of other perfectly prepared roasted vegetables. I wish I could have tried all their sausage offerings (not to mention their pates) but alas, I'd have to settle for one. The portion, particularly for just me, was very ample. For my main course, had the 40 hour pork belly served with sweet potato lyonnaise. Holy son of a diddly was that fantastic! This place executed everything flawlessly, and I literally couldn't believe I was eating at a fine dining establishment in Rochester and it was this good. Far too often, something disappoints. But at least last Saturday, everything was absolutely perfect. Great job! —davidgottfried
---
2016-05-31 20:53:46 **THURSDAYS - Menu du Voyageur * - a special, PRIX FIXE menu (served in place of our usual menu) EVERY THURSDAY NIGHT. Each Menu du Voyageur investigates a particular French cuisine, concept or ingredient, to be served for two Thursdays before changing to highlight another region or subject. On Thursday nights, we do still serve Steak Frites from our regular menu and a Salad Special. —Dara
---
2016-08-26 21:46:19 Good Luck does French food. Spectacular. —Cretinx