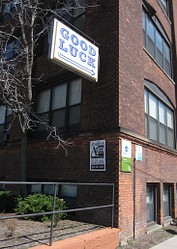 GoodLuck sign at Goodman corner, 4-2010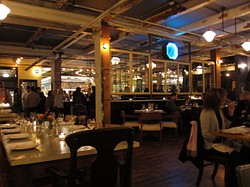 Interior, 2-2011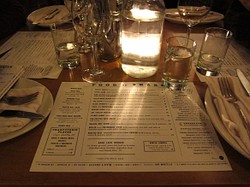 Tonite's Menu, 2-2011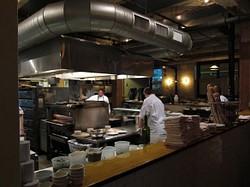 Where the Magic Happpens, 2-2011
Location
50 Anderson Ave., Rochester NY, 14607
Hours (as of December 2015)
Dinner
Wednesday/Thursday: 5:00PM to 11:00PM
Friday/Saturday: 5:00PM to Midnight
Bar
Wednesday - Saturday: 4:30PM to 2:00AM
Phone
585 340 6161
Accessible
Yes-in back
Alcohol
Yes
E-mail
<info AT restaurantgoodluck DOT com>
Website
http://www.RestaurantGoodLuck.com
Reviews
City Newspaper 2008-09-10
Good Luck is a "shared plates" upscale restaurant and bar located in the Neighborhood of the Arts, in the Anderson Arts Building.
The owners also run Cure a casual gourmet restaurant at Rochester's Public Market.
In 2019, the opened a event space, next door called the Jack Rabbit Club.
Awards
Voted "Best Service" and "Best Place to Take a Date" by City Newspaper's 'Best of Rochester' Awards in 2015.12
Comments:
Note: You must be logged in to add comments
---
See Archive Page for comments prior to 2009.
---
2009-01-01 21:55:54 New favorite in Rochester, perhaps in all of Upstate NY. This place is wonderful in every way. The atmosphere is urban and unique; it's Java's for the grown-ups who used to spend their evenings sipping terrapins at the coffee house's Gibbs Street location. The bar is gorgeous. Cocktails are wonderfully inventive, beautifully executed, and moderately priced ($7-8); try the Paper Tiger and the Expresso Sling. The wine list is carefully selected, and the waiters actually know their drinks. The food is delicious (so far, I've tried the pizza, the butternut squash, and the charcutrie plate - all wonderful) and plated beautifully, though it's a touch on the pricey side.
The crowd is slightly older (late 20s, early 30s?). It's a nice blend of arty intellectuals and business types. Rochester needed a place like Good Luck - I'll be back again and again. —GreenBrenana

---
2009-01-15 12:48:07 Great place. Very trendy interior and the food is excellent. Somewhat small portions for the price but the quality makes up for it. Service was also very good. Overall a great place. —AV8R
---
2009-04-08 14:11:47 While I agree about the nice decor, my dining experience was ruined by the excessively loud and crowded atmosphere. The drinks were amazing and a few of the food dishes were quite good (but not all). —EllenKelsey
---
2009-04-13 16:21:25 Reserved a table here a few months back, but the experience was memorable. The first thing you notice is the terrible acoustics. When you sit down and try to discuss with your girlfriend what to order, you are most likely yelling just to be heard. Otherwise, the restaurant-inside-an-old-rusty-factory look gives the place a little character. Remembering this is a shared plates restaurant, you must visit here with courteous dining companions who won't take more than their portion and who like an intimate dining experience. As recommended by our waiter, the Paper Tiger drink is pretty original and better than most other "original" drinks in Roc. Finally, the food.. We ordered french fries (I know what you're thinking, but we order what we like). They came scalding hot, but were cooked well (though not difficult, you'd be surprised how many screw them up). We also ordered the pork tenderloin and a few other dishes. The pork tenderloin was perfection. Perhaps the best I have ever had. This place is busy and crowded, but it adds to the atmosphere (I like crowded restaurants). Hopefully this place sticks around. —TryingtheBest
---
2009-09-22 17:31:31 we were there over the weekend. After waiting an hour for a rare steak, and having had all other dishes and silverware cleared, the hostess told us (while giggeling—apparently thinking the situation was funny) the steak was taking so long because another table complained about their steak so they gave them ours. Yes-its decorated in a "trendy" style (whatever that means) but anyone who thinks this place would survive in NYC or any other major city is kidding themselves. This place would only thrive in Rochester. —JamesPatrick
---
2009-09-24 17:00:37 The above information is wrong, Good Luck actually IS accessible. The accessible entrance is in the back. —AnnieMiller
---
2009-11-21 18:45:18 I have mixed feelings about this place. Pluses: you can actually get real drinks (Sazerac, Sidecar) here made by bartenders who do more than open bottles and use sour mix. The interior is beautiful. The concept is fairly unique to our area. I had a lovely Nicoise here. I can eat well late in the evening. Minuses: mistakes noise for "vibrancy"; not all plates are executed well (our pizza was just plain bad); service can be abysmal (said pizza took an hour — they lost the ticket; waitress did not actually know what went into the special beyond "mussels in a broth"). —RochesterGuy
---
2010-04-04 01:37:48 Went here with 7 people tonight, and in total had 15 dishes, and two bottles of wine. This is the second time I've been here, and I love it. The food, service, and atmosphere are all top-notch. If you're looking for a quiet little boring evening out in a booth with typical dishes for a bland palette, then just don't go here. Go to Olive Garden. On the other hand if you're looking for something local, different, delicious, house-made, fun, and very memorable, then come to Good Luck. Good Luck is a real treat to have in Rochester. Between this time and the last, I've had just about everything on their menu (the fun of going with a large group). I highly suggest the whole chicken: It will remind you of what chicken is supposed to taste like. Juicy and soft—out of this world. Everything tastes great and is cooked to perfection, but that chicken is killer. I've never had anything like it.
Amazing place with a brilliant menu. You can't go wrong. —VinceC

---
2010-07-07 10:32:17 Been here a couple of times... one of the best places in the city. Food and drinks have always been solid, it's not NYC or SF/Napa for restaurant quality, but we live in Rochester so we must take what we can get. Atmosphere is very nice as well —jonramz
---
2010-08-16 13:23:33 We had a great experience when we went for dinner on Friday! Made reservations for 8pm - and it was PACKED when we walked in, so we were glad that we didn't have to wait too long for a table (only about 5 minutes). Other reviews are correct — it is LOUD LOUD LOUD — but once you get used to it, it's fine. My husband and I shared the Good Luck Burger - it was HUGE, more than enough for the both of us, and was delicious with the Brioche bread. Echoing a previous reviewers comments - their fries are perfectly cooked - and it's hard to make GOOD french fries. We also shared the warm chocolate cake for dessert, and that was delicious! Service was fantastic, food was fantastic, drinks were fantastic... we will be back! —Acarp
---
2010-10-30 07:15:02 Had a wonderful meal and time with 6 friends (8 of us total) at this new-to-us restaurant last night. The space is WONDERFUL, with just the right amount of lighting that was dim, but not dark and shadowy, so we could still see one another. The food was very good, and the concept is to share plates: the server brings each dish when it's ready, so it forces a kind of communal eating, and the menu is friendly to vegans and gluten-free eaters as well as carnivores. I thought the braised cabbage was excellent, and we also shared a red lentil special that was zippy and really delicious. The 1 lb. hamburger was very good, and so was the roasted duck breast, perfectly done. The gnocchi bolognese was good also, and the dumpling squash was a nice seasonal dish, with skin tender enough to eat. All in all, a great experience, and we will be back. —KatieSchmitz
---
2010-11-04 11:30:52 Went here for the first time last night, and already booked a return trip for new years eve! The concept and interior is awesome, and so is the food. This is obviously more expensive than some places but the emphasis on communal eating and knowledgeable wait staff make it easy to make a selection. They have a small buy high quality beer selection and awesome cocktail menu to, so there's something for everyone. —MarkNewell
---
2010-11-14 13:45:22 I went to Good Luck for my birthday a couple of weeks ago. We have been here many times before and were waiting for an adequate excuse to bring friends and family and show them what we have been talking about. My wife reserved the chef's table and a special meal (five courses) for our party. We are not the easiest group to please: vegetarian, one-time restaurant worker, food snobs. Everything was very good. Coco and Chris {?) made a great and successful effort to help my wife choose a menu that was interesting and delicious. The preparation was first rate and went far beyond the simple description of components that Good Luck is known for. We did sort of thwart chef's intentions by ordering some pizzas and fries with our cocktails, but we can never resist them. I cannot decide which dish was my favorite. The service was very attentive and unobtrusive yet friendly (Leah!), and we made sure to adequately express our appreciation to her. We never felt rushed or interrupted. The cocktails were excellent. One of the best Sazeracs I have had. Our guests were well pleases with their drinks as well. The wines on the wine list are reasonably priced and interesting. It was also a distinct pleasure for us to watch such a well-run and well-organized kitchen: not flashy, just professional and coordinated. Finally, they had my favorite Cognac: Maison Surrene Petite Champagne. A fine way to end a great meal. Our guests are still talking about the dinner and Good Luck. Now they can make their other friends wonder how anyone can work mention of Good Luck into random discussions just to have an opportunity to praise a restaurant. We know why. —RxScabin
---
2010-12-12 20:26:37 Not cheap, and the interior is loud making it a bit hard to talk across the table. However, the food and the service were excellent, worth every penny. Great choices for the shared entrees, a nice wine list, perfect timing on bringing the dishes to the table. —DottieHoffmann
---
2011-02-06 16:57:58 Last comment was mine too, makes it look like we go here all the time LOL. Went again last night. It appears that they have placed some sound-absorbing panels on the ceiling, the noise level was down slightly which is nice. We had a great meal, the service was excellent, and all the dishes we picked were terrific. It was expensive and not something we can do all the time, but we were comfortable that the experience matched the price tag. —DottieHoffmann
---
2011-08-08 20:48:26 Drink menu is solid and priced very well. Love the bar! The food I'm not so fond of. The dishes seem to lack consistency... Well, they are consistently salty, which left me unimpressed. The menu choices are creative, but lack that "special something". I'd be much more satisfied with a simplified menu that was out-of-this-world good! Complicated dished do not always justify the price. Check out Max Chophouse or Rocco in Rochester for consistent, amazing food. Check out Good Luck for the cocktails... and only cocktails. —RocBigs80
---
2012-02-09 08:45:53 Had dinner with my wife and another couple of friends last Wednesday and all I can say is WOW. The drinks were awesome, and the food was outstanding. I'm always nervous about places that put so much emphasis on their "philosophy" rather than on food (I'm looking at you Lento...) but this place delivered an outstanding experience in a very cool space. That hamburger is amazing. I've always loved the 2 Vine burger, but the Good Luck burger takes the prize for best burger IMO. Also had a Arctic Char that was so perfectly cooked, I couldn't believe I was eating it in Rochester. The fish itself wasn't dry, had a perfectly soft texture, and yet the skin was crispy and delicious. Had a few other dishes (everything is shared) and it was delish. Right down to the French Press coffee, everything was prepared expertly and the service was attentive and informative. Can't wait to go back. —DavidGottfried
---
2012-09-08 22:29:55 Great food, great drinks. Our server was wonderful, the bartender was a hipster dickhead. —marcuskroll
---
2012-12-28 08:56:14 Great cocktails. This reviewer cannot comment on the food, because, by the time it arrives, I'm usually too drunk to remember what I ate. —marcuskroll
---
2013-08-03 20:12:16 We used to LOVE going to Good Luck but it just doesn't wow us anymore. The food is edible, and we really want to like it because we love the environment and the cocktails, but we just don't. It's mediocre and overpriced. We've done chef's table several times and it just continues to disappoint. $200 for overcooked lamb, some raw carrots, and a dish of pasta? Will go for drinks, won't go for dinner. —shawnalusk
---
2016-12-08 11:03:05 I'm a big fan of Good Luck. I think it's one of the most iconic restaurants in Rochester. It's not perfect. I think their food can be over-seasoned at times (to an overpowering degree), but overall I find the food great. And it's loud in there. But I love the environment overall, and it's always packed. The no corkage fee on Thursday is great. That, along with a Good Luck burger for two, is a perfect night out. —DE
---
2019-11-02 21:34:47 Quite possibly the best restaurant in Rochester. Dat burger doe. So good. —batguano