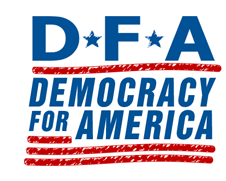 Democracy for America of Rochester (DFA Rochester) is an affiliate of Democracy for America, the national progressive activist group that was born of Howard Dean's 2004 Presidential campaign. DFA Rochester endorses and works for fiscally conservative, socially progressive candidates at all levels of government.
The group is free to join and holds meetings on the first Wednesday of each month in the private room at Jay's Diner on West Henrietta Road. The meeting starts at 7 p.m. and generally lasts an hour to an hour and a half. Candidates for office are often present to introduce themselves or to give campaign updates. Some meetings include activist training or a video presentation.
In addition to supporting candidates, DFA Rochester also does Adopt-a-Highway cleanup and staffs WXXI membership drives as well as supporting community charitable events such as the Making Strides Against Breast Cancer walk.