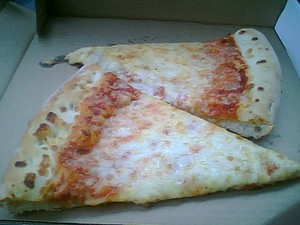 Two slices of Doughboy's pizza.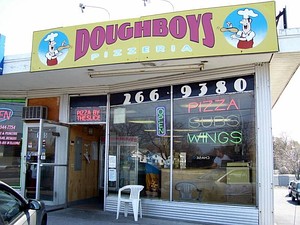 Doughboy's is near Rick's Place in the Great Win Plaza on East Ridge Road.
Doughboy's Pizzeria was a pizza parlor on East Ridge Road in Irondequoit. In addition, Doughboy's made hot & cold subs, salads, wraps, and wings, and had its own version of a garbage plate, the Doughboy Plate.
Comments:
Note: You must be logged in to add comments
---
2008-08-03 16:47:21 I have a friend who refuses to eat any pizza that doesn't come from a large chain. She likes the uniform, golden brown crust, and scorns neighborhood pizzerias as "side shop pizza." I think she would like Doughboy's. That's not necessarily an insult. The first few bites were tasty, and the crust has a nice crisp crunch. That's all it has though - by the time you're left with just the crust, you realize it's tasteless white flour.
Next time I come to Doughboy's, I'm trying the "stuffed bread" - a 1 lb. loaf of bread stuffed with cheese and pepperoni. Sounds like stromboli to me, but finding a place that does 'boli (other than the great Stromboli Express) is rare 'round these parts. —ZachSmalt