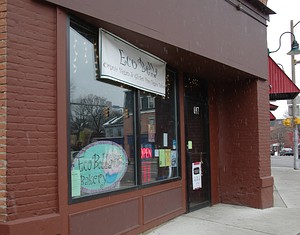 New Location on South Ave, 12-2010
Former Location
697 South Avenue, Rochester, NY 14620
Status
CLOSED as of November 2011
Eco Bella was an organic bakery on South Avenue in the South Wedge. They serve organic, gluten-free, and vegan foods. Their grand opening was held on January 31, 2009. The bakery is owned by Jeaninne Ottman.
Comments:
Note: You must be logged in to add comments
---
2009-06-10 18:13:28 mmmmm, nope! I wouldn't advise going here. —maureen7
---
2009-11-16 23:25:43 It is a blessing to have a gluten free vegan bakery right in Rochester. I love their apple tarts with ginger cream. My son loves their vanilla donuts. Their food tastes healthy and delicious. Prices may seem high to people who don't normally eat vegan or GFCF but I feel like they are quite reasonable for specialized foods. —Rorshach
---
2010-03-06 14:25:07 wow Maureen. That's a pretty helpful comment. Care to elaborate? I've only eaten one cookie from this place, but it was glorious :) Can't wait to try more. —ChristineHochmuth

---
2010-06-02 10:54:56 The bakery is cramped and has no seating room, but that is fine by me! The vegan brownies are to die for and my boyfriend devoured the moon pies in no time flat. Suggestion: pick up some tasty baked goods, then head over to Equal Grounds, grab a drink from them, and enjoy! —Kyara
---
2010-06-04 14:46:20 great little bakery. organic, vegan and/or gluten free options, while they sound scary, are deliciously imagined in their small kitchen.
vegan brownies = to die for.
wish they had more consistent hours though. It's hard to remember their peculiar schedule. —pdx87

---
2010-07-30 13:03:28 Awesome bakery! Everything is delicious, especially the carrot cake moon pie. Eat some things from here and you'll wonder why people use eggs or dairy at all. —GeorgeBluth
---
2010-08-05 16:27:31 I'm in love with the carrot cake muffins. SO.GOOD. It's a real privilege to have a vegan/GF bakery in Rochester. I remember when I could only indulge when I found Eco Bella at the public market. The storefront makes vegan ohmygodyesness way more accessible. —KaeLynRich
---
2011-06-11 13:43:32 Staff is somewhat rude to non hipster types like myself but their vegan brownies are so good Ill take their attitudes for their great product. —heathersmith
---
2011-06-11 21:50:44 I bought oatmeal bread from Eco Bella this morning at the Public Market, and it is delicious! The vendor was knowledgable, pleasant and extremely helpful. I would highly recommend this place for great vegan options! —LAHopkins
---
2011-06-19 01:06:46 We ordered a chocolate cake for my son's birthday, and everyone raved about it! (Adults and kids, including those of us that don't normally eat vegan or gluten-free.) —Roddy
---
2011-08-25 13:15:47 Good goods, but customer no-service! I've been in here twice so far, and each time they made me feel like they were far more interested in being in the kitchen than helping a customer. When I got a single $4 item last time, I expected the girl was going to say, "Is that everything I can do for you?" or something polite. Instead she said, "That's it?" rather sarcastically, as if she couldn't believe she wasted her time on me. If I tried to chat even a little for friendly rapport, they pretty much ignored it and tried to just get me to buy and leave as quickly as possible so they could go back in the kitchen! Good luck being a bakery if customers aren't happy... —DianaWatkins
---
2011-11-10 20:20:24 per the website they are closed.... —JcPop