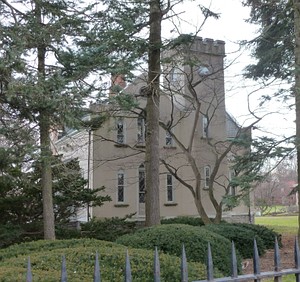 Gothic building that served as the nursery office (Mount Hope Avenue next to the Patrick Barry House). Today it is the home of the
University of Rochester Press. George Ellwanger and Patrick Barry were owners of one of the largest nurseries in The Flower City. Ellwanger began the business in 1839 with Thomas Rogers but by 1840 he had bought Rogers out and partnered with Barry who was more knowlegeable than Rogers. Their first site, the Mount Hope Garden and Nurseries, grew to 43 acres by 1843 and was the basis of an extremely profitable wholesale business. By 1860 Ellwanger and Barry would control over 500 acres in the area. They grew a wide variety of plants, including fruit trees. They earned an impressive seven awards at the 1849 NY State Fair in Syracuse. Ellwanger frequently traveled to Europe, bringing back seeds and cuttings to cultivate here.
Both Ellwanger and Barry were involved in the community, Barry as a school commissioner and Ellwanger as a bank trustee. They invested in the first horse-drawn streetcar line, the Rochester-Brighton Street Railroad. Their property on Cypress and Linden streets was subdivided and turned into home lots, primarily for their workers. Other Rochester nurseries would soon follow their lead. They were early advocates of public parks.
As cities in the American west matured, a major market for Rochester's nursery products declined. In addition, the founding generation of nurserymen began to pass around the turn of the century and their leadership was not replaced. George Ellwanger would die in 1906. Patrick Barry's son, the company's president, died in 1912. The company began subdividing their holdings and selling them off piece by piece. It was a losing proposition. Despite having gone public in 1900, the company would liquidate its stock by 1918, with only two profitable years out of the eighteen. The last new planting was 1912.
Besides the Cypress and Linden neighborhood, Ellwanger and Barry land would form the basis of Highland Park. Patrick Barry's house on Mount Hope Avenue is now owned by the University of Rochester.
See Also:

Ellwanger and Barry Papers

Ellwanger and Barry Botanical Prints

Ellwanger Family Papers
Comments:
Note: You must be logged in to add comments