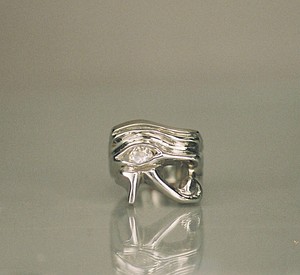 18k White gold with 3/4 caret diamond Egyptianisque Mans Ring
Faruk Kaiyum Gallery was a jewelry design studio known for creative body ornamentation. It was based on a philosophy of a commitment to craftsmanship, pleasing aesthetics, ergonomic balance and timeless symbolic value. Every jewelry project was addressed with care and concern, focusing on a true sense of exclusivity.

There were four main component of the Faruk Kaiyum Gallery:


Custom - Exclusive one-of-a-kind jewelry for the individual or group using a diverse vocabulary of of materials. Each piece is accompanied by a certificate of exclusivity.


Contemporary - Simple but elegant. Well designed aesthetics with a tasteful integration of metal, stones and craftsmanship.


Cultural - Symbolic value merged with a clean design. A way for a person to integrate a principal, a value or a goal into jewelry tastefully.


Repairs - Rejuvenation of broken, dirty or older jewelry.

Kaiyum was also a Creative Workshop Jewelry Instructor at the Memorial Art Gallery.
Faruk Kaiyum is now located in Atlanta, Georgia.
Notes and References

Comments:
Note: You must be logged in to add comments