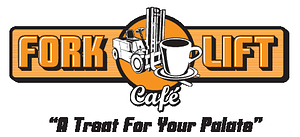 Forklift Cafe is a diner in Lyell-Otis, on the border of Greece. They serve breakfast and lunch and offer catering. The location is a former guard shack in front of the Lexington Commerce Center, which was originally a Kodak International Distribution Center. Owners Karen Fournelle and Dorothy Horn were presented an award from the Greece Chamber of Commerce for creative use of an existing building.
One of their dishes is an 18-wheeler plate.
It opened August of 2012.
Comments:
Note: You must be logged in to add comments
---
2013-08-21 15:48:29 It's a named after the powered industrial truck used to lift and transport materials. —Damiankumor