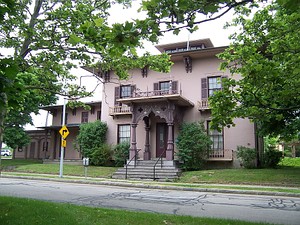 The Brewster-Burke House
Location
130 Spring Street, Rochester, NY 14608
Hours (as of January 2016)
Wednesday - Thursday: 11:00AM to 3:00PM (Lunch), 5:00PM to 9:00PM (Dinner)
Friday: 11:00AM to 9:00PM
Saturday: 1:00PM to 9:00PM
Phone
585-987-6432
Wheelchair Accessible
No
Alcohol
No
Email
<rsvp AT thefqc DOT com>
Website
http://www.TheFQC.com
The French Quarter Cafe is a restaurant in the historic Brewster-Burke House in the Cascade District. They serve New Orleans cuisine.
This is the third location for the French Quarter Café, which opened in 2008. They were previously on South Goodman in the Park Avenue neighborhood and before that on Arnett Boulevard in the 19th Ward.
Photo Gallery
Comments:
Note: You must be logged in to add comments
---
2008-10-04 17:12:50 We ate lunch there. I had the fried catfish, which was awesome. Fresh and well seasoned, with not a trace of grease or oil. The side were nice too. I recommend. —JonGary
---
2009-12-13 08:26:10 This restaurant is truly authentic New Orleans Louisiana cuisine. There is nothing close in Rochester. Scrimp and crawfish etouffe, gumbo etc. it's all great and at very reasonable prices. This owners are wonderful people. Try it you will be back. —PeterPatall
---
2009-12-17 10:56:06 Having noticed their recent soft opening at their new east-side location (and expanded hours) my wife and I tried the FQC for dinner last Friday. Despite being a bit overwhelmed by the crowd, the owner was very gracious and the food was excellent. The gumbo was the star of the show, with true New Orleans flavor. My wife's fried catfish and dirty rice were generously portioned and delicious. The shrimp in my etouffee were cooked perfectly, but the sauce could have used a bit more vegetable texture. They currently have no liquor license but are friendly to BYOB. In chatting with the owner she promised more gumbo options, hush puppies and beignets by the time of their formal opening early in 2010. But don't wait, this is authentic Lousiana food at excellent prices - just save us a table! —JGerek
---
2009-12-24 14:33:14 Went yesterday for lunch with a co-worker who has been many times and raves about the place. The catfish was amazing and the side of corn was great. I agree with other comments there is nothing like this in Rochester and it has great New Orleans food. My one complaint we were seated right away but we did not get served until an hour later. Not great if you are going on your lunch hour. —ScottHendler
---
2010-01-30 23:53:47 This is some seriously badass food. I've been here a few times and I've been constantly impressed by the depth of flavor and all at a great price point. I can't recommend this place enough. —AlAbonado
---
2010-01-31 11:01:50 My wife and I have been here twice, in December 2009 and last night. The first time we ordered the crayfish fettucini, Sicilian chicken, and meat pies. One of the things we liked a lot were the half portions. We could order an entree at an appetizer price and get a lot more variety in our meal. Ordering half entrees prevents overeating. Each dish was served with a beautiful presentation that made it fun to receive. The crayfish fettutini was divine (very rich but guilt free in a half portion). The Sicilian chicken came had an excellent white wine sauce and went really well with the corn and potatoes (also seasoned really well). The Sicilian chicken was lighter with clean tastes and feel. The potatoes for example were fried but crispy on the surface (mmmm) but completely free of oil (very good). The corn perfectly seasoned and had a sauce that matched the potatoes. The meat pies were also fantastic.
Last night we ordered the gumbo, fried catfish (sides of green beans and dirty rice), and crayfish etouffee. The gumbo once again stroke an excellent balance between rich and light. The flavors were rich from the roux but the brother felt light and clean. Throughout eating it I kept marveling at the balance and culinary trickery that could make a dish both have robust rich flavor and clean light feel. I was concerned that there might be a lot of sodium in it but from a flavor/presentation/culinary perspective the dish was out of this world! The dirty rice which is prepared with chicken liver and sausage tasted surprisingly fresh yet carried the strong earthy flavors of the meat. I was slightly concerned that the liver and sausage would make the rice taste "dirty" (too much fat/gamey flavor) but the rice really tastes clean and delicious! Once again they strike an amazing balance between richness/lightness that makes each of their dishes pop. The catfish was a thick fillet fried in a cornmeal batter. The catfish tasted like a perfect fresh fish without the regular silty texture I have come to loath from catfish (how did they do this?) and the cornmeal batter had amazing flavor without being too potent to block the taste of the fish. The first bite I was blown away by the flavor but slightly put off by the almost abrasive texture of the cornmeal. By the second and third bites I had fallen in love with the textural delight of the cornmeal, which made it feel like I was exploring a dry mountainous landscape of flavor with streams of succulent fish. The crayfish etouffee really was equally delicious, presented beautifully around carefully cooked rice. The first time we had etouffee it was at Beale street (another great place) but we really didn't enjoy it. Since we really like Beale street we assumed that we didn't like etouffee. I was glad to be proven exactly wrong. Although the etoufee is also made from a roux the flavors and texture were distinct and fun. Having tasted and loved dozens of restaurants in Rochester I am happy to say I have found a new favorite.

---
2010-02-06 20:02:46 I went there today and had the meat pies, Sicilian Chicken with corn and home fries (they call them Brabant Potatoes). I also had the dirty rice. The meat pies were good (although not as good as Maria's Puerto Rican Meat pies at the Rochester City Market) and the corn tastes and looks exactly like the canned corn my mother used to serve for dinner when I was a kid (not that I never liked that corn, it just was a bit disappointing since I thought it was supposed to be really great when I read the previous reviews). The chicken was good, but again, I make the same chicken at home and I have to say mine is much better. The dirty rice was good, but again, nothing to write home about. I guess I may have to try their etouffee and gumbo and see if that will sway my opinion of the place. Right now I just don't see the draw after my one visit. —DabeernFooddude
---
2010-02-06 22:14:41 Went with my wife tonight. The turkey gumbo special was superb, a mild heat and a touch of file powder for authenticity. The barbecued shrimp were OK but I was hoping for the shell on peel and eat as advertised instead of the already peeled shrimp which were in a tasty worcestershire seasoned broth, but not the spicy butter sauce that I have loved in New Orleans. My wife enjoyed the meat pie. Me not so much, but I am no judge as I am not a meat pie/empanada person. Crawfish etouffee was good and my wife's catfish had a greaseless crunchy cornmeal crust that went well with their tartar sauce, which was like a remoulade sauce. Prices are incredibly reasonable and the host owner was gracious and attentive. Still no liquor license but they are fine with BYOB (bring a corkscrew). All in all a good addition to the area. Will return- want to see how their Po-boys are, especially the roast beef. In New Orleans, go to Mother's and get the Ferdi with debris. —LikesFood
---
2010-02-14 11:33:08 Wonderful place. The gumbo is delicious and the cup serving is very generous. My favorite entree is the shrimp etouffe. The brabant potatoes are a good side dish with anything. Incredibly friendly and welcoming owners and nice atmosphere (beautiful paintings on the colorful walls.) Extremely good prices. I am so glad the French Quarter Cafe has moved to the Park Ave neighborhood— we're lucky to have it! —OxfordWriter
---
2010-03-13 09:50:18 Great dinner experience here last nite. Service was very pleasant and friendly. Suggest making reservations if you can, as the place is very small. Food was wonderful, great flavors, just the right amount of spicy. Prices are great, lots of options under $10, and many things are available in half portions too. Menu is short but covers all the bases, you will still have trouble making your decision. I bet the old neighborhood where they were misses these folks, although they did tell us that many customers have followed them to the new location. A great addition to the Park Ave area! —DottieHoffmann
---
2010-03-18 19:53:02 My husband and I just ate dinner there for the first time. Our experience similar to those above: wonderful food at very reasonable prices. We'd highly recommend the etouffee, shrimp creole, and the meat pie (. . .the green beans were so-so). We're not southern food connoisseurs by any means, but found everything very tasty and with flavors unlike any other place we know in Rochester. Rapidly became one of our favorite restaurants. —LePetitChien
---
2010-03-27 20:06:42 First visit was a big hit. My wife raved about both her Gumbo and Empanada. I opted for the Crawfish etouffee which that was by far the best that I have ever tasted. The sides on the other hand were very average based on the quality of our meals.Was told by the owner that they have different kinds of Gumbo specials, which because our server was so overwhelmed she neglected to mention.This was the only negative of our visit.Easily the best food of this style in the city. Hopefully the service will iron itself out. —almorinelli
---
2010-04-18 14:05:42 We were quite impressed with our first visit here on Friday evening. The service was outstanding - attentive and very friendly. The decor is bright and pleasant. And the food - well, let's just say I can't believe they ask such humble prices for such high-quality food. The gumbo, crawfish etoufee, and green beans were excellent, but the crawfish fettucine was out-of-this-world. Despite what the menu says, the etoufee wasn't spicy, but the fettucine was (but both still delicous of course.) The sweet potato casserole was rich and sugary enough to be a dessert. The only thing that I missed was a side salad, which would have been a great precursor to the fettucine. —AJH
---
2010-04-23 10:16:23 Awesome. Delicious. Affordable. Awesome. —DarrenKemp
---
2010-05-23 21:45:02 I have missed Cajun food! Walking up, I knew we had made a good decision. The aroma of fried seafood lured me in. Great selection on the menu and all really well priced- I didn't know what to order. I decided I would be coming back multiple times, so not to worry. The fried shrimp and etouffe, made this Bayou Girl smile. The owner is from Lafeyette, gotta love it. REAL BREWED TEA earned huge points. And get the beignets. I don't care if you don't know how to say it or if you want the peach cobbler (get both!) but do not leave without trying the beignets. Bon se bon! —ParkAveChica
---
2010-07-21 15:43:22 Went for lunch today with some friends and loved it! I got the chicken half & half (étouffée and cafe wings) and it was delicious! Wings were perfectly cooked and the sauce on them was fantastic, and the étouffée was amazing! My friends got the gumbo and the crawfish fettuccine and said they really liked their dishes as well. We decided to split the beignets for dessert... YUM!! This place has fantastic food, great prices, and the owner is so nice! I will definitely be back... and will try the peach cobbler for dessert! —Acarp
---
2010-08-15 13:14:57 This is by far my favorite restaurant in the Rochester area. My husband and I go at least once a month. I love the shrimp etouffee and my husband gets the crawfish fetuccini. The sweet potatoe cassorole is delicious, as is the peach cobbler. Everything I've ever tasted here has been perfect. The prices are good, location is nice, service is great. —acs02001
---
2011-02-16 09:05:06 I have been here several times and the quality of the food and service are consistently excellent. My husband and I did takeout from them once and the quality was the same. Their jambalayas, gumbos and etouffes are delicious, and I frequently get a serious craving for their crawfish etouffe. If you're looking for amazing food and friendly service for a good price the French Quarter Cafe is your place. —KristyGlick
---
2011-06-04 17:03:45 Consistently good. Not great, good. One nice thing I have to say is that whenever you walk in here, you know exactly what you're going to get. A lot of that has to do with the fact that there's really no turnaround here; you have the owner and his brother in the back, and the owner's wife running the front. Cute place, but I always get the feeling they are using a cookbook. Everything is very standard, and I feel it's a shame that as talented as the people there are, they don't really add their personal touch. —DaveMilitello
---
2012-03-15 09:33:49 I was a big fan of this place when it opened, but my enthusiasm has faded. Went in for an early dinner recently. Server asked if we wanted to order drinks, but we had no drink menu to speak of. I'm not seven sure if they serve wine/beer or what. We stuck with water. The smoked chicken and sausage gumbo was delicious - great spice, soulful food. We ordered a side of the "southern style green beans seasoned to perfection", which were CLEARLY dumped out of a can, and not seasoned in any way. The server said she would check with the kitchen, she returned to tell us they were not from a can, but she was very impressed that we thought they were good enough to have come from a can. What!? Shrimp etoufee was pretty good, but at this point I just don't really trust the restaurant's ingredients or methodology. I love the idea of the restaurant and was a frequent customer when they opened; but it seems like it should be a joyous, fun meal - and the place just feels a bit quiet and sad. —eatndrink
---
2012-07-28 13:48:55 I have eaten at this restaurant several times, and I have always been very happy with my meal. The shrimp etouffee is my favorite. I went there recently with my brother, who had the cajun-fried catfish, which he really enjoyed. He also couldn't stop talking about how good the tartar sauce was- we asked, and they make it there. One of my favorites in Rochester! —LizB
---
2015-05-15 14:16:42 Just tried the place today for a quick bite (the Spring St/N Washington location). The gumbo was delicious, and the prices are very reasonable. —daggar