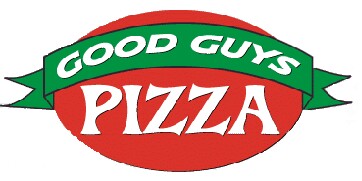 Good Guys Pizza is pizzeria serving pizza, wings, calzones, and other fried foods. They are located on Chili Avenue in the same plaza as Ace Swim & Leisure.
Awards
Good Guys won the "Best Pizza in Chili" Competition at the 2008 Chil-E Festival in Chili.
Comments:
Note: You must be logged in to add comments
---
2007-11-08 01:31:26 I used to go here all the time for their excellent calzones, and their "Good Guys Sub," which has chicken fingers, bacon, and Country Sweet sauce.
Since I moved from Chili to Henrietta, I have been going to Mark's Pizzeria, though I like Good Guys better. —AlexanderGartley

---
2009-01-12 10:03:10 Well, I went to Good Guys last night for the first time in about a year, and they've changed their chicken fingers. They now use chicken fingers that are stringy and taste more like chicken nuggets from McDonald's. There was also barely any sauce, making the sub very dry. I was disappointed in the quality. I recommend Colombini's over Good Guys — Colombini's is cheaper and better. —AlexanderGartley
---
2009-02-04 10:50:01 Consistently made, perfectly cooked, delicious pizza. Never had a bad experience. I'm always surprised when I open the box at how well made and cooked the pizza is. It's like art. Delicious hot wings. If you're in Chili and you don't go here you really have no idea what you're missing. —PersonFace
---
2011-05-01 21:28:11 One of the hidden gems in an already fantastic menu are their garlic parm wings. unlike any other i have had anywhere else...they actually use chicken wing sauce instead of just oil making an oily mess. absolutely fantastic! —Awells
---
2013-01-21 16:10:51 Today these guys forgot how to add. The original total charged to my card was wrong by just a buck and when I called to let them know they became upset after they realized that they charged the incorrect amount. Somehow it is wrong to expect to be charged the correct amount of money.
They started getting rude so I decided to cancel my order and the manager refused to refund my money...which was still more than the original price should have been. It should have been no big deal to fix it but they would not. The manager told me that I was "talking shi*" to him and hung up. Nice.
So we didn't get any food but they still want to keep my money that wasn't even for the correct amount in the first place?
Too bad they can't live up to their name. I suppose the fact they are located in a dilapidated building in a crumbling plaza should have given us a clue of the pride they take in their business. They probably need that extra cash more than me anyways.
What comment can the owner even make to justify not providing goods but keeping the funds? They are welcome to add their two cents to explain and if they did it would show that they at least care about their reputation which is not apparent from their actions today, you know with the owner refusing to talk to me and all. Perhaps they'll be more talkative in this forum and hopefully they can use other vocabulary than the vulgar words that the management is fond of using with customers.
I hope you have a great day guys!!! —itsmemofo