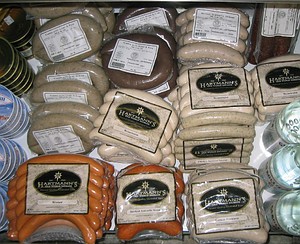 Packaged selection 12-07
Hartmann's Old World Sausage (aka Hartmanns Old World Sausage) was one of the few remaining German butcher shops in the Rochester area. Some of their cold-cuts are also sold at Wegmans. The company, from its Canandaigua facilities, now focuses solely on processing and selling a wide range meat products at wholesale and in bulk.
NOTE: earlier
Page Revisions under "Hartmanns".
Original Deli Location
1256 Clinton Ave N, Rochester, NY 14621
Status
CLOSED May 22, 2009

Open since 1973, their location in downtown Rochester (on North Clinton between Avenue D and Norton Street, on the southeast corner with Burbank St) was closed "as of 5:00 p.m. on Friday, May 22." 1
Comments:
Note: You must be logged in to add comments
---
2007-11-14 13:07:19 I've been shopping at Hartmann's since the early 80's and find they have the best meats in the city. Apparently the new owners have been very successful increasing business via the web and out of state/city orders. However I have been disappointed they have made less and less of an effort for the retail space itself. Most of the display coolers are either empty or stocked with pre-packaged meats. Personally when I go into a specialty butcher shop, I'm not looking to buy pre-packaged meats. But apparently that's where the money is. When I ask, they always say they keep most meats in the back coolers, and can bring them out if I want something. It's a very strange business model, keeping the products hidden from the customers. I wonder what people who have never been there are supposed to do? Hopefully their current remodeling will lead to stocking the display coolers with fresh meats again. —ZedOmega
---
2007-12-14 16:32:15 We have known about this place for a while and finally stopped in today, what a wonderful little shop. Great selection of meats, we thought there was a decent amount on display, both pre-packaged and cut to order. Also carry a variety of imported foods mostly European (German, Austrian and similar it seemed). People were very nice, let us taste a few things. Neighborhood is a bit rough but don't let that stop you, go there and check it out. —DottieHoffmann
---
2008-11-09 11:32:05 I'm amazed that no one has mentioned the pot pies. Go on Saturday after 2pm... that's when the new pies will be ready for purchase. A couple of folks who made the pies at the old Manhattan Restaurant on East Avenue have been making the pies at Hartmann's. They make both chicken and beef pot pies. I've only personally eaten the chicken and they are maybe the best pot pie I've ever had... save for what I've made myself! Their selection of traditional german sausages and meats is fantastic - and yes, Wegman's does carry their products both as pre-packaged and in the deli section. —DavidGottfried
---
2009-01-11 21:41:13 This is not a bad place to go for a weekday lunch. Limited seating (3 tables). Schnitzel sandwich was very tasty. —ThomasPawlik
---
2009-07-20 10:12:22 we tried to go here for lunch for the first time because we'd heard good things - turns out it was closed for good - all shelves empty and a nothnagle for sale sign in the window —DanetteFitzgerald