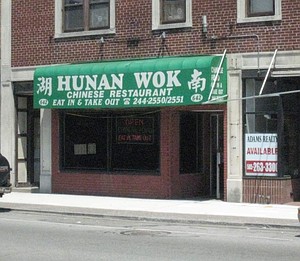 Hunan Wok on Monroe Ave, 06-2008
Former Location
642 Monroe Ave, Rochester NY, 14607
Status
CLOSED (as of 2010)
Merged with Lin's Garden on 420 Mt. Hope. Monroe Ave location closed due to lease expiring.
Hunan Wok was a Chinese food restaurant located on Monroe Avenue. The author and his girlfriend thought this was the best take-out, especially if you get the lunch specials. They had good moo-shu pork, but order extra pancakes.
Comments:
Note: You must be logged in to add comments
---
2006-11-19 00:25:40 First off, I have ordered here like 5 times and the food has always been good. Price is good and so is service. This place is more really just a take-out place. When you walk in there you will feel like you're in the Wizard of Oz... in that building where the Wizard was in... and you have to walk a long way to get to the counter. Ok. Maybe it's not really like the Wizard of Oz. But they have a big ass empty space between the counter and the door. You almost feel like there should be some dancing going on there. —EmilyYang
---
2008-07-26 21:39:21 They have really good food. They tell you 40 minutes for delivery then they are there 10 minutes later. —TNT4U
---
2008-11-24 11:11:49 I have only eaten here once but I was super impressed. The person eating with me said it best with the odd comment that the food feels "clean." None of that greasy feeling you get from some Chinese restaurants. The veggies were fresh the food was flavorful. This is my new fave Chinese place. Like the other comment, they said delivery would be 30 - 40 minutes, but 15 minutes later they were at the door. —BadFish
---
2009-01-27 17:04:41 Been here a couple of times, and have enjoyed their food. It's within walking distance of the Antiwar Storefront so it's convenient for me.
A word of advice, though: don't order the Singapore Mei Fun unless you have a steel tongue. When they say spicy, they're not kidding around! —EvanPeacock

---
2010-07-20 12:47:05 NOT CLOSED - Moved to 420 Mt. Hope! Their lease is up on Monroe. —ScottyV
---
2010-07-20 13:59:56 Scotty, I Googled the new address and it shows that that address is Lin's Garden. As far as I know they are still open at that location. —DamianKumor
---
2010-07-21 10:11:10 For the record, BOTH of you above are right. Let me explain, as I called Hunan Wok for food last night lol. A crazy loud guy (but friendly) answered the phone and explained that Hunan Wok moved to 420 Mt. Hope, and that it simply merged with Lin's Garden to become one restaurant. Then he proceeded to tell me that they are related. THEN, he proceeds to tell me that the merger is sort of like Kinkos and FedEx (????!!!).... Anyways, the point is that there is no longer a Hunan Wok, and that the Hunan Wok menu will be merged with Lin's Garden menu. The place on Mt Hope is still named Lin's Garden, and Hunan Wok as we know it is gone. For the record, apparently they will still deliver to the Monroe Ave area. —PepperU
---
2010-07-21 12:08:10 Thanks Pepper! —DamianKumor
---
2010-07-21 14:06:10 Thanks for clarifying, Pepper. You were able to extract more info from the loud guy on the phone than I was! All I could tell is that they moved to 420 Mt. Hope. I really don't recall a FedEx / Kinkos comparison, but that relationship failed. Let's hope this is a good merger! ;) —ScottyV