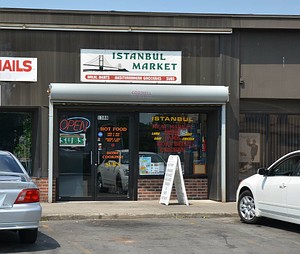 Istanbul Market on Norton St, 7-2011
Former Location
1388 Norton St, Rochester NY, 14621
Status
Closed
Istanbul Market is a Turkish grocery store and a halal meat market. Chicken, beef and goat are available here. They also sell a limited selection of homemade Turkish food (eg. meat dishes, breads, baklava, samosas) for take out.

They are located in the shopping plaza on the northwest corner of Norton Street and Portland Avenue.
This location has since closed. The owners have another store called the International Food Market.
Comments:
Note: You must be logged in to add comments
---
2009-05-17 19:44:05 You will be hard pressed to find a nicer butcher in Rochester. I have had no problems with special requests for the butcher. The takeout options are excellent. The baklava is amazing. I have actually seen a lady (I think it is the owner's wife) making the baklava on several occasions. They carry Turkish necessities along with some interesting items like "Turkish coffee sets". I have been shopping with them for over a year now and have never had an issue. Highly recommended for Turkish food/groceries and good quality meat. —OneLove
---
2009-08-25 20:18:54 Delicious lahmacun (Turkish ground lamb pizza) —ThomasPawlik
---
2011-07-17 16:52:14 We stopped in looking for a specialty spice, which unfortunately they did not have. But, the people were very nice and the shop was clean and organized. We found a couple interesting items to try, and plan to go back to try some of the prepared dishes for lunch one day soon. —DottieHoffmann
---
2011-10-21 15:14:53 i love this place, and i can honestly say i love the people in it, too! i've known both fatih and zeliha for over ten years now, and they are some of the finest people in rochester. everything in the store is a grade above anything else you will find in rochester and the food is always fresh and of high quality. please continue to shop at the istanbul market as these people deserve every penny! also, they just opened a store near marketplace mall called the international food market, and it's even better than the one above. it's located at 376 jefferson ave. much love,
—MattSnow

---
2012-10-15 15:47:13 After reading these reviews, I was excited to check this place out, especially since we have an Exchange student from Turkey who is living with us for the year. After driving from south of Buffalo, we pulled into the parking lot only to find that this store has been closed for quite some time. No problem...Matt Snow was kind enough to list their Jefferson Ave location on his post. Unfortunately, the true location of their other location is on Jefferson ROAD, not Ave. Our GPS came through for us and we soon were browsing the aisles of a very nice store much to the delight of our newest family member. —Ken
Ken—good thing your GPS came thru, cuz Jefferson Ave is a pretty rough area for Rochester standards :) —TippingPoint

---
2012-10-15 19:27:08 You should've just gone around the corner to the Halal Meats store. It's not STRICTLY Turkish, but it's Turkish-owned. Certainly would've taken a LOT less time than your tour of both Henrietta and the Ghetto took... —alex-c