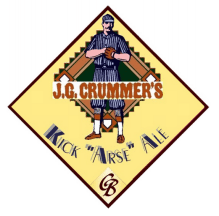 Former Location
1665 Penfield Rd, Penfield NY 14526
Status
Closed (as of 2012)
JG Crummers was a Penfield townie bar with burgers and wings.

From the website: "Whether its the game you're going out for or dinner, this is the place for you. A local flavor that will keep you coming back. J. G. Crummers is that place "where everyone knows your name", or so it would seem, even if you've never been there before. Food that ranges from daily specials to wings, salads, and burgers, you're sure to find something to eat that hits the spot and leaves room in the budget for a few of the area's best brews; J. G. Crummers Kick "Arse" Ale!"
They closed sometime in 2012
Comments:
Note: You must be logged in to add comments
---
2008-04-25 09:19:29 very fun great atmosphere —PiatzasPizzaGourmet
---
2008-04-25 14:01:45 Ok dive bar and pub grub restaurant. If you work at Paychex you will make it there at some point.
I have only been twice but both times there have been people with babies there, I dont know if they come from the trailer park in East Roc off 441?
I have never seen the Reese Witherspoon movie about Alabama or something, but the commercial resonates with me "You brought your baby to a bar?" —MrRochester

---
2011-04-02 16:51:04 Best bar food in Rochester! Must try their Tiger Wings and Tiger Burger. VERY GOOD and reasonably priced!!! Haven't had a bad meal yet. —BradtheMailman
---
2012-06-07 11:12:08 Closed. —cbcritic