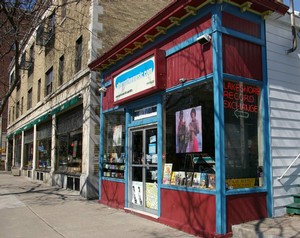 Lakeshore on Park Ave 3-2008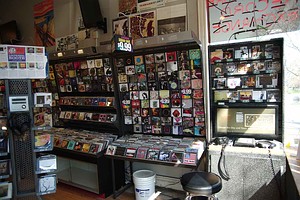 Lakeshore Interior, 4-2009
Lakeshore Record Exchange was a new and used record and CD store on Park Avenue that carried indie, alt, rock, and other specialty genres. They also carried used DVD's, as well as magazines, posters, incense, figurines, books, and other oddities. Dogs were welcome.

Listening stations were available to preview the CD's.

Andrew Chinnici bought Lakeshore Record Exchange from original owner Ron Stein (a co-founder of Record Archive) in 1988. Within a few short years the shop moved to its current location on Park Ave. In 1995 when the web was still in diapers (really, like, ages ago) Chinnici bought Alternativemusic.com and opened an online store. According to the site, they decided early on not to compete against mainstream vendors like Amazon and CD-Now and would focus instead on building a niche indie base.

Closed September 2, 2017.

From the Website

Lakeshore Record Exchange is a small business that understands its market and who it is serving. It isn't pretentious. It doesn't have high profit margins, or a corporate attitude.
Comments:
Note: You must be logged in to add comments
---
2006-09-01 08:03:11 Now in their 4th (?) location, Lakeshore has the best selection in town for the type of music I'm interested in. Unfortunately that "preview any CD" service they have means they are really selling some used CD's for full price. However, if they have another unopened copy, they will sell you one instead of the preview copy. Regardless, they still provide a great local service and offer one of the few locations in town to find unexpected musical treasures. One of the best benefits is the opportunity to have the in-person shopping experience that the convenience of online shopping takes away from those of us who delight in the in-store search. —ZedOmega
---
2007-06-08 14:33:03 Recommended for those with more eclectic music tastes. And if you can't find anything you like used, there's always the $9.99 rack with a great selection of off-the-beaten-track classics. —JasonPoole
---
2007-06-08 15:03:27 They have a great selection because of their focus on niche genres and artists (which happen to be the majority of what I listen to). —TravisOwens
---
2007-10-08 15:13:34 I enjoy going here and browsing. I like getting new-to-me bands from the used CD rack. They're also wonderful and sweet to my dog, which is fun for my dog and for me. —FirstLast
---
2008-04-07 23:02:35 Vinyl selection is fairly limited aside from newer releases, used cd section is amazing though. —GregoryGentert
---
2008-04-08 09:11:16 They have the most helpful staff of any music store in Rochester and they genuinely enjoy showing people new music. Prices are always reasonable and chances are if there's a new independent release you're looking for, they have it. —CraigCeremuga
---
2008-04-08 09:49:33 Are they no longer selling designer vinyl toys? I used to be able to buy Dunnys and Labbits here... any ideas? —KimBee
---
2008-10-14 23:08:24 Dunnys, Labbits, etc. are covering the entire counter - hard to miss them, are you sure you were in the right store? —deanadeana
---
2008-10-15 11:26:35 Yes I was in the right store, but over six months ago. It's possible they decided to pick the toys back up. Last time I was in there in the spring they said they were no longer carrying them. I just order directly from KR or Atomic Books in maryland. —KimBee