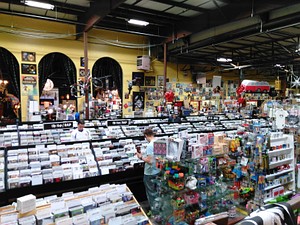 Interior (April 2016)
Location
33-1/3 Rockwood St, Rochester NY, 14610
Hours (as of April 2016)
Monday - Saturday: 10:00AM to 9:00PM
Sunday: Noon to 5:00PM
Phone
585 244 1210
Wheelchair Accessible
Yes
Website
http://www.RecordArchive.com
Facebook
Record Archive is a new and used CD, DVD, and record store that has been in business since 1975. They are known locally for their
wacky commercials. The staff is friendly and usually pretty knowledgeable about most music. The store also sells a lot of various other items including local concert tickets, collectibles, hipster knickknacks, vintage clothes, vintage furniture, and more. They often run contests for free promotional items and they don't hesitate to throw free, small promotional stuff in your bag when you check out. Record Archive also buys, sells, and repairs all sorts of audiophile equipment.
The huge space also affords room for live music.
Record Archive was previously at 1880 East Avenue and 1394 Mt. Hope. They moved to their current location on Rockwood Street in 2008 (in the Cobbs Hill Neighborhood, touching the border with Brighton) combining both stores under one roof.
Older Photos
| | | |
| --- | --- | --- |
| Exterior and main entrance, 3-2008 | Interior, 3-2008 | Don't upset the Tiki God, Buy Something! 11-2010 |
Comments:
Note: You must be logged in to add comments
---
2008-03-24 21:42:42 I like the new location perhaps the best. The old Mt. Hope house was charming, East Ave. became way too crowded after the move, and it's finally a breeze to browse (especially the vinyl). They're still (expectedly) unpacking, but between here and Bop Shop we're very lucky, indeed. —RochesterGuy
---
2008-04-16 14:41:39 If someone could write up how to get to the new location, that would be great. I spent 20 minutes last weekend driving around trying to get there. I see it from the interstate, I thought I turned in the right place, but ended up behind the building [but not close enough to walk] and couldn't figure out how to get to the road that goes in front of the bldg.
It's not intuitive. [Yes, I looked on Google maps.] —MarcVera

---
2008-04-16 16:45:38 You need to enter from East ave (Route 96). If you are on East Ave at Wegman's, head East, cross Winton Road, and pass the old location next to DiBella's subs. After that the road dips down and goes under the highway. Just beyond that it rises again and there is a left turn that'll take you into the industrial area where the new Record Archive Bldg is. —DottieHoffmann
---
2013-10-10 14:33:18 thank you for the directions DottieHoffmann! I, like MarcVera, did the same circling - I could see it, but couldn't get to it! So maddening! —Liberty