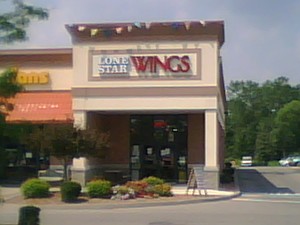 Lone Star Wings on Empire Boulevard.
Former Location
1855 Empire Blvd., Penfield NY, 14580
Status
CLOSED as of 2008
Lone Star Wings was a Texas-based chicken wing chain that has three restaurants in the Dallas metroplex - and oddly enough, one on Empire Boulevard in Penfield.

The specialty was wings with your choice of several different kinds of sauces. There are also hamburgers, chicken sandwiches, salads, and side dishes on the menu.
Comments:
Note: You must be logged in to add comments
---
2008-07-28 13:41:22 For having its roots in Texas, the wings at Lone Star are pretty good. The Original (hot) sauce has a nice kick - it's just the right viscosity to coat the wings. The wings were large and crispy, and came with a lot of blue cheese (perfect!). I didn't like the Lemon Citrus, but my girlfriend did. —ZachSmalt
---
2008-07-28 17:02:42 For a chain, Lone Star Wings are pretty good. Lone Star is the fast casual equivalent to Buffalo Wild Wings. They have a large selection of different sauces, alcohol, a clean environment, and washing stations. Nice touch! —MrRochester
---
2009-01-06 10:50:49 Sadly, this place closed late in 2008. Currently is another empty building in the Webster/Penfield area. —StevePlace
---
2009-01-06 12:29:59 I was sad when I saw this place was closed. Tried going there a few weeks ago and saw they were shuttered. While I never had the wings there, they had GREAT burgers. —MarcVera