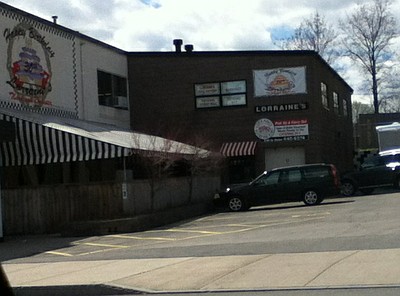 final location at 777 Culver Road
Lorraine's Food Factory is a take-out and delivery restaurant. They also offer catering services.
Lorraine got into the food business in 1982 when she opened Lorraine's Lunch Basket in the Park Meigs Mall, later relocating to Clinton Avenue. In 2005 the Food Factory opened as a full-service restaurant fronting on Culver Road. In 2011 the main restaurant closed, but a primarily take-out operation with limited seating continued at the rear of the property until late in 2020.
Awards
Lorraine's was voted "Best Catering Company" in City Newspaper's "Best of Rochester" award in 2010.
Comments:
Note: You must be logged in to add comments
---
ADMIN NOTE: All comments from 2007 & earlier have been archived to Lorraine's Food Factory/Comments
---
2008-06-05 12:16:00 I went a few years ago to see a friend's band played. The food was sub-par and I have not been back. I recall it being lukewarm and bland....but this was about 3+yrs ago. —owslystnly
---
2008-06-13 16:06:45 Absolute garbage. —JK44
---
2008-06-16 11:28:12 I ate here several years ago for lunch and they really only specialized in cold foods. Since I dont like cold foods (except ice cream) this restaurant isnt for me. But if you like cold sandwiches, it might be your thing. I just checked the menu and it looks like they have diversified some, so perhaps Ill give it another try. —MrRochester
---
2008-06-17 12:05:41 I've had some interesting pasta dishes, salads, and some awesome sandwiches. —MariahBetz
---
2008-07-28 10:31:35 She claims to have good food but I had an event catered and the food was NOT GOOD AT ALL!!!! Most of my guests complained, too. Everyone, please don't go to her for any type of food, she is all talk and hype (claiming to be the best caterer in town with all sorts of fancy websites and customer satisfaction, when in fact, she sucks) and NOT good at all! —ahmet
---
2009-08-05 15:36:09 there are only a few things i like here...the turkey sandwhich, tuna salad and chicken salad are it. —limeylimer
---
2010-07-02 17:13:53 Food was just average, and the service was terrible, our group was the only one in the place, but service took forever and one entree was completely forgotten. Not worth it when there are way better choices within a short drive. —DottieHoffmann
---
2011-05-15 18:28:21 Noticed earlier this week that the restaurant area has been completely cleared out. There's still a take-out operation (separate entrance at the back of the parking lot) but it doesn't look like table service will be available anytime soon. —MarkJackson
---
2011-05-23 22:31:46 Addendum: there *is* seating available in a covered patio area, but basically they seem to have converted back to catering and carry-out. A guy smoking in the parking lot (possibly an employee) says the former restaurant space is to become some kind of discount store. —MarkJackson
---
2011-08-06 21:18:45 The former restaurant space is now occupied by Discount Hydroponics. —MarkJackson