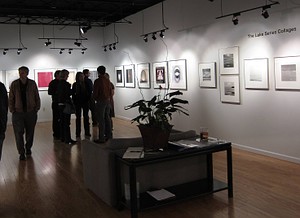 Gallery Side, 1-2012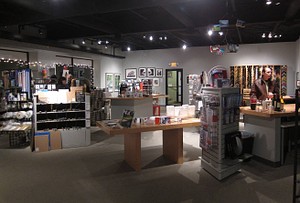 Store, 1-2012
Lumiere Photo was a nationally prominent seller of archival supplies and materials, and had recently opened a Digital Lab specializing in Large Format Printing. They were extremely knowledgeable about digital photography, print photo, negative archiving, document archiving, and other forms of archiving valuable materials. They also did framing.

It was the only store of its kind in Rochester, and one of the only ones of its kind in the entire country.

The Digital Lab offered high resolution scanning, fine printing (archival, large format, etc.), color correction, and so on.

There was a Fine-Art Photographic Gallery called Spectrum Gallery offering framed and un-framed photographic prints as well as a Macintosh Store ( Mac-Ave ) on premises. The Mac Store was owned by a different person than Lumiere, so the hours may be different than Lumiere from time to time, though at the time of the article it was listed as the same (c. 2004 it was different as the Mac store closed at noon on Saturday - so be sure to call ahead if you also want to look at/buy Macintosh computers and accessories!)

Closed March 2017.
Comments:
Note: You must be logged in to add comments
---
2007-05-18 12:54:06 The good news is that Lumiere is still here and stronger than ever. But, the mac store is out of business and has been replaced by a wonderful used and rare book and document store. Also, Spectrum Gallery is now called The Lumiere Collection, featuring works by local and regional artists.
http://www.lumierephoto.com/mm5/merchant.mvc?Screen=CTGY&Store_Code=1&Category_Code=LUCO
But probably the best news of all is I do all the custom framing! Weeeeeeee! Come on and see me and mention this page on RocWiki, and an instant 10% off for you. (bringing beer is optional, of course) —PatrickCain

---
2009-05-19 18:13:24 They would appear to be closed as the Park Avenue Pub has moved into the location. —TomMaszerowski
---
2009-05-20 02:19:02 Not closed, they just consolidated into a smaller locatation behind the Park Bench. (Not the Park Ave Pub, thats still on Park Ave.) —MrRochester
---
2009-05-20 08:21:17 Yes. I've been in contact with one of their employees and they are indeed still in business but tucked into the back behind the bar. —TomMaszerowski
---
2011-02-17 15:50:32 I went to Lumiere off a friend's recommendation after I purchased a painting while on vacation that I needed framed. Patrick seemed genuinely into his job and seemed excited to work with me to make the painting I purchased into a work of art. He patiently went through many different framing options, offering suggestions but also listening to my preferences and working with my style. He offered me a coupon to use to bring the cost down a bit which was really nice and not expected! He was able to get the framing done in a week and I was REALLY pleased with how it came out. I would definitely go back there again and would recommend Lumiere to others! A+ —dmarie
---
2011-07-20 17:58:03 Lumiere Photo is alive and well and in continuous operation since 1999. It is in a new location at 100 College Ave. with a new 5000 sq ft store and gallery. Spectrum Gallery continues to be part of the Lumiere Photo store with a very high profile 700 sq. ft. gallery. —WilliamEdwards