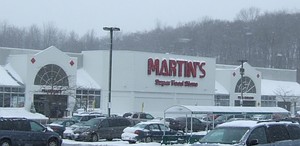 Martin's Dec 2007 - BradMandell

Fairport TOPS back again - BradMandell
INFO
Martins was a TOPS store under a separate brand name. The Perinton Square Mall store was renovated when it was converted from TOPS to Martins and has now been rebranded back to TOPS, but retains the new look and is somewhat different from the typical TOPS.
This TOPS store is a spacious, clean, well stocked mega market in Fairport. It's off Route 250 on Route 31, which is on the way to Lollypop Farm. Few Rochesterians outside of the immediate surrounding area of the store are aware of Tops, which is a shame. They have an extensive selection of fresh and difficult to find items, including Belgian
Looza juice and Scandinavian
crispbread.
They also have several self check-out lanes, which can be a treat for those who like to bag their own items and keep track of each purchase. The store also features some Price Scanners to allow quick check of item prices from the barcode.
Comments:
Note: You must be logged in to add comments
---
2005-11-18 12:12:30 Blasphemy! —RobertPolyn
---
2006-05-03 01:14:13 to me its topps with a different name —MatthewVanHook
---
2006-05-04 16:15:59 It's a Wegmans wannabe —MrPhil
---
2006-10-26 06:47:50 Martins is just an ordinary grocery store. It has better prices than Wegmans and Lori's, although I've found Tops itself is a bit less expensive (presumably due to the lower overhead). The store listed here has a great organic/natural food section and lots of great ethnic foods, including lots of Northern and Eastern European, Indian and Thai ingredients. It's a really nice store. I'd say that if you really love to cook or bake and need a variety of high-quality base ingredients, you're better off with Martin's, but Wegmans has better ready-made deli and bakery items — if your wallet can handle the strain. Since there's a Wegmans two blocks away from this grocer, you don't really need to commit to one store or the other. :) —PamAnon
---
2007-03-03 11:57:16 Martin's is responsive to consumer requests. I love the little hand held scanners that Shopper's Club members can use. Just shop, scan, see ongoing total, bag while you shop, stop briefly at the checkout to have your purchases uploaded and pay. Really makes me feel like part family. Employees always seem very helpful and polite. Although they have a Union workforce they are probably underpaid - explains the GREAT low prices and weekly specials. We shop the health food section and enjoy the, well stocked, several Ethnic Food Sections. —WwwXenunet
---
2008-05-28 15:26:20 Martins is gone, it is now Tops. —MrRochester