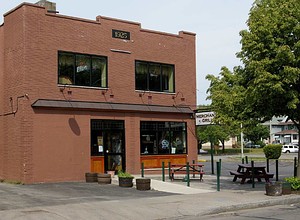 Merchant's Grill, 5-2008
Merchants Grill is a bar and restaurant located in Culver-Merchants. They use local products and feature live bands. They also sponsor area baseball, softball, and darts teams. The menu features standard bar fare, as well as soups, salads, and sandwiches. Full menu available until 10PM. Sunday brunch is from 10:00AM to 1PM.
An upstairs room and an outdoor patio are available for private functions.
Comments:
Note: You must be logged in to add comments
---
2007-01-27 21:44:25 Merchants Grill is cozy and popular. The food is good and the prices are excellent. The service was on the slow side; it appeared that only one waitress was working. Fortunately, someone else (either another waitress or possibly an owner) was there and wasn't supposed to be working, but she jumped in and helped speed things up. —RachelBlumenthal
---
2008-01-20 10:05:41 We've been here a bunch of times and it's a cool hangout. It's the kind of place you don't go into with expectations of getting great service. You just order, drink, eat and have a good time. —BigPun [A portion of this comment has been moved to BigPun's page]
---
2008-01-27 20:11:48 Just a nice neighborhood bar and grill here, we had a few beers and dinner and it was just as expected, good "pub food". Their wings are yummy and so are the home-made potato chips. Service was a bit slow, but you are here to hang out and have a few beers, so who cares. —DottieHoffmann
---
2008-05-27 11:50:41 Good pub food, clean place for a bar and grill. Not a bad place to grab a sandwich. —MrRochester
---
2008-08-15 13:03:14 I was surprised to see they had a DJ the one time I went in. It wasn't the type of place I expected to have one. —SaraChristine
---
2009-04-10 10:49:31 Yes, the service is very slow (though seems to be better if you sit at the bar). The food is above-average pub fare with a few standouts, including the patty melt, tuna wrap, and Reuben sandwich. —EllenKelsey
---
2009-04-17 17:36:04 Great neighborhood bar. It's bars like this that make Rochester an exciting town to get out and try new places. Awesome wings, efficient service (usually), and lots of TV's that are always playing sports. If you live in the neighborhood, and want a quick meal and beer in a working-class atmosphere, this is it. The beer selection leaves something to be desired for the micro-brew crowd, but there's usually a pale ale from Great Lakes Brewing Co. on tap. I can't over-emphasize how good the wings are here, the best I've had in Rochacha. —ErikReinert
---
2009-06-02 09:25:21 Great neighborhood bar with bands on Friday nights, and sometimes early on Thursdays. The foods great, and the kitchen's open until 1:30 AM. Just one warning, though: If you're so hungry that you're about to start gnawing on your arm, eat a granola bar on the way over to keep from passing out. Food sometimes takes forever at this place, even when it's not busy. On a positive note, they don't just serve what we all consider "bar food". During normal dinner hours, they serve some actual healthy food. I recently had salmon with mixed vegetables & rice and it was about ten bucks. It was beautifully prepared. I didn't even know they offered that kind of food. Parking's easy - there's the lot directly adjacent to the bar, and there's another huge lot diagonally across the street. —SamKatt
---
2011-04-16 00:24:42 I had a couple of leftover wings here (I showed up late to the festivities I was attending there) and they were good, albeit, on the hot side. From my short stay, it seemed like a nice, happening neighborhood bar. —BatGuano
---
2020-09-29 16:24:28 Very very rude experience calling this place. My phone had bad service and was going in and out. I got told honey I dont have time for games and they hung up —ShnaraGarrison
---
2020-09-29 16:24:58 Very very rude experience calling this place. My phone had bad service and was going in and out. I got told honey I dont have time for games and they hung up —ShnaraGarrison