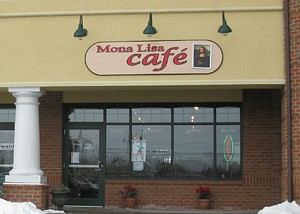 Photo Feb 2010, BradMandell
Former Location
807 Ridge Rd, Webster, NY, 14580
Status
CLOSED (as of February 2014)
The Mona Lisa Cafe was an Italian style bakery and cafe that offered Italian baked goods, gelato, espresso, and coffee. It was very elegant, yet not pretentious. It was located in the Webster Woods Plaza. In January of 2013, the D&C reported that it was briefly closed by the state for non-payment of taxes, but it did reopen shortly after that.
Comments:
Note: You must be logged in to add comments
---
ADMIN NOTE: Due to archiving purposes, comments from 2007 are now located at Mona Lisa Cafe/Comments
---
2008-07-20 14:30:24 The gelato is superb. Loved the Italian pistachio, and the nocciolo, which is a chocolate hazelnut. On another visit, they had 3 or 4 different takes on the chocolate/hazelnut combination, ranging from fudgelike to just a hint of Nutella. If Abbott's is closed, try them out - they're open late. —ZachSmalt
---
2009-07-10 01:39:02 Disappointing. The desserts were bad, the coffee was bad, and the service wasn't much better. So disappointed. —Tori
---
2009-07-22 09:11:21 Although this is a very pretty little cafe and the dessert offerings look really good, the service is absolutely pathetic. I had a hard time getting silverware to eat with, it was ridiculous. VERY disappointed. Huge waste of my time and money. Won't be back. :( —NorthWoodsGirl
---
2009-07-30 13:36:26 Agree with NorthWoodsGirl. Went here for lunch and was told to take a menu and sit at any table. I asked if outside was ok, was told yes. Waited outside for almost 15 minutes before going in and finding out you have to order at the counter... Then placed our order, waited for 25 more minutes and realized by now we had to get back to the office. Went inside and asked for our food to go. It took over 15 minutes more at that point for our food to come out. Ridiculous when it was nothing fancy to make.
Also the shrimp on my foccacia was overcooked and had a texture like shoe leather. Will not be going back here. —KimBee

---
2009-09-07 17:02:20 I normally would not comment without actually trying the food, but I will share my experience after reading the comments about the service. I stopped there last Monday around 4:45pm to grab a coffee/snack while my car was in the shop. There was one table of people eating inside. I stood by the counter for a couple of minutes and never saw any staff. I walked up and down the display case a couple of times eyeing the desserts (they looked good!), but still no staff. Finally I walked over to T.C. Hooligans and got a giant beer for $2.50!! (happy hour special). To be fair, I didn't wait a really long time before I left (maybe 5-7 minutes?), but it always feels like eternity when you're standing there waiting . Anyway, I'll give them another shot sometime, but it just seems odd that many people had similar experiences with the s-l-o-w (or in my case non-existent) service. Get it together folks! —NoBS
---
2009-09-24 14:19:07 Stopped recently for dessert. Enjoyed the gelato but the cake - forget what they called it, but it was described as some sort of decadent-sounding chocolate-and-coffee-flavored delicacy - pretty much was like a square Hostess cupcake, only more expensive. Coffee was just OK. My impression was, yet another place with a tempting looking dessert case that disappoints in the end. —DavidPausch
---
2010-04-14 10:16:40 We love this place especially for gelato and a taste of Italian atmosphere. We've never really had a bad experience unlike some of the comments here. Yes, you order at the counter and food is brought to the table. You can leave an open 'tab' for the time you are there. This isn't McDonalds and laid-back is part of the charm - having said that, service has been prompt. We've enjoyed the panini, tiramisu and cappucinos too. —MVP
---
2010-06-19 21:31:55 I went there tonight, and got a couple of desserts....a creme brulee and a profiterole...the creme brulee was delicious...the profiterole HAD MOLD INSIDE IT...HAD MOLD INSIDE IT!!! I went back to exchange it, and they gave me a different creme brulee with berries which were dried up and nasty...HEALTH HAZARD!!! STAY AWAY!!! —dupuis2387
---
2011-07-02 17:25:41 I have traveled the country for decades and eaten in many great, mediocre, and poor restaurants. I can say by far, with no second place winner, that this place was the WORST! I came with a friend for lunch. Sat outside with others who were being served. The waitress never checked on on us for almost a half hour. Had to get our own menus and her attention. I ordered a bottle of wine that is $8 off the shelf, but $23 at this place. I also ordered a simple dish of pasta and it took over 40 minutes to get it. No contact from the waitress all this time waiting. She then brings me the dish and there is an inch and a half long hair in the food. I try to quietly bring this to her attention and when she finally wakes from her peaceful slumber, she reaches over and uses her bare thumb to scoop it out and then hands the plate back to me!!!!!! When I brought to her attention that I wanted another dish, she reluctantly took it back inside and by some miracle, was able to bring me out the so called new order in less than 5 minutes! I refused to eat the food and when she returned about 20 minutes after that, she had bill in hand for almost $50! I have never been so utterly disgusted with the service at any restaurant I have been in during my entire life as I was with this place. I would never return nor recommend this place to anyone else. And, it is apparent that the restaurant management doesn't read these reviews as from the looks of many others who have had similar problems, it does not seem to be improving.- Completely Disgusted! —ArtC
---
2011-07-11 07:53:11 I have been to the cafe three times in the past week and every time i have gone, it has been an excellent experience. Last week, I went with a friend for a nice lunch and coffee and was kindly greeted by a waitress and brought over to a table. Service was excellent and the food was phenomenal! I would definitely recommend the artichoke french, one of my new favorites. The new chef there has definitely brought in a new twist for cuisine and it is just marvelous. Another time I went, I wasn't sure what to get, so the chef made a brand new eggplant dish specifically for me! Talk about dedication to customer satisfaction!
Im not sure why the previous comment has such a poor review. Some people are just out there to vent their anger towards others.
FIVE STARS! ***** You have to go try this place! —coffeeaddict1

---
2014-02-04 12:58:23 This place is now a part of Moma Ristorante Italiano... looks like they knocked down a wall and combined it with adjacent location to make a bigger restaurant. —abraxas