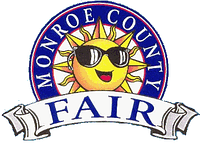 Location
680 Colby St., Spencerport, NY 14559
Phone
585 262-3247
Dates
August 4 - 7, 2016
Website
http://www.mcfair.com/
The Monroe County Fair is an annual event. In 2013 it changed venue, leaving Henrietta at the The Dome Arena and moving to Northampton Park in Ogden.
Comments:
Note: You must be logged in to add comments
---
2008-07-11 14:23:15 I had the opportunity to visit the county fair with a friend on Wednesday, Dollar Day. The first thing worth mentioning is that the new entry way to the Dome Center and Minute Hall is complete. It's quite nice and spacious, and will look great once it is decorated up a bit. This year it was filled with Hostas from the Hosta Show. Not quite my cup of tea, but okay.
The Dome itself had a couple of kids exhibits, more hostas, a few vendors, and I believe the space exhibit was crammed in at the back. There wasn't a whole lot new to see here, and so we browsed for a little bit and then moved on to the agricultural exhibits. There were some really cute goats, a huge pig, and your typical array of farm animals. We exited out by the horse ring, and meandered through the outer portions of the fair.
Noticeably missing from the food assortment was Nick Tahou's. Though really in the mood for a garbage plate (my standard fair food of choice), I had tried an imitation last year at "Peggy's" and it was clearly not made by someone from the Rochester area, as it nowhere resembled what it was supposed to. Instead, we opted for steak and sausage sandwiches, a bucket of fries, and ice cream. The sandwiches were your typical variety of fair food—nothing great, not too horrible. The ice cream from the little cart in the food area is totally awesome—highly recommended!
The midway was filled with the standard array of rides. The Super Loop made its way back this year, the spinning dragons, the fun houses, and such. Noticeably missing were a couple of the staple attractions from last year. The Wave Swinger—an essential—was nowhere to be found, and appears to have been replaced by a spinning tug-boat. The Ferris Wheel was also out of the line-up, and a twirling ride called the mind bender, or something like that, was in its place. Also missing was the Hurricane rocket ships that made their first appearance last year. I probably would have ridden the swings and the Ferris Wheel were they there, but there wasn't a whole lot that interested me, aside from perhaps the little Cobra kiddie coaster, that I would have ridden just to say that I have.
The miniature horses on exhibit at "Horses, Horses, Horses" were fun to look at, and the little show that they did, though a bit corny, was interesting enough to watch for a few minutes. All in all, the fair is probably great if you have kids who want to spend hours on the rides. But there really isn't a whole lot that kept me there very long. There weren't a whole lot of vendors which would have made for fun and interesting browsing, and the exhibits seem to be the same from year to year. We spent a buck, and we got about a buck's worth of entertainment. It seems to me that a few fresh exhibits would make it much more interesting. Some folks would probably enjoy the races (which I am thankful come only once or twice a year) or some of the other "extra" shows. But other than that, not a whole lot of excitement. —LincolnComet