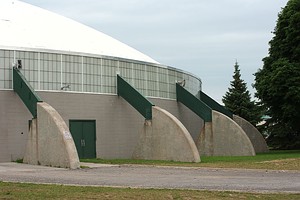 Exterior of the Dome, 8-2009
Location
2695 East Henrietta Road, Henrietta NY, 14467
Hours
Varies with Event Schedule
Phone
585 334 4000
Accessible
Yes
Alcohol
Yes, at certain events
Email
<contact AT fairandexpocenter DOT org>
The Dome Arena and Expo Center is a multi-use complex in Henrietta. Comprised of the Dome Arena, Minett Hall, and various other buildings and areas. Former home of the Monroe County Fair.
The Dome Arena was home to the local bouts of the Roc City Roller Derby league and the original home of the Rochester Raiders professional indoor football team.
The Dome Arena was put up for sale in 2012; purchase efforts by the owner of the Rochester Razorsharks and others fell through before a successful sale in 2015. Extensive renovations were then carried out before the arena, now christened The Dome, reopened in 2017.
Comments:
Note: You must be logged in to add comments